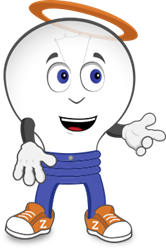 There's no reason we can't be fun and informative at the same time. In the end it's about the customer's experience and how well the message resonates. - Jill Stevenson, Chief Marketing Officer
Houston, TX (PRWEB) December 08, 2014
Zonesty is excited to introduce ZMan, the latest member of their marketing and branding team. The memorable character is changing the messaging dynamic between electricity consumers and the industry that supplies them with energy by using a new way to deliver information. Through simple imagery, ZMan coveys information clearly and concisely while adding a positive, personal touch to Zonesty's comparison shopping experience.
"Zman provides an identifiable character and spokesman for the brand," said Jill Stevenson, Chief Marketing Officer at Zonesty. "It's a fun, effective way of promoting Zonesty and helping to communicate our messages to the customer base." This relational marketing strategy has proven successful for countless household name brands in the past. ZMan now joins a long history of recognizable characters that include the Geico Gecko, Tony the Tiger, and the Aflac Duck.
The concepts behind deregulated electrical service and finding the best electric plan can be complex, which is why the new character was conceived. The ZMan character provides a visual reference of simplicity and trust to electricity services so that the messaging is more comprehensive. It's a strategy that is going to be present across all Zonesty marketing and media channels moving forward, including digital, and print campaigns.
The character also sets Zonesty apart from the competition said Ms. Stevenson. To date, most companies within the electric service sector have used very dry marketing techniques, which don't resonate well with the consumers that use the friendly, online Zonesty tool to comparison shop for their best plans. Ms. Stevenson added, "There's no reason we can't be fun and informative at the same time. In the end it's about the customer's experience and how well the message resonates."
Zonesty has already revolutionized the way customers in Texas search for and secure electric services with the launch of their website. Their three-step system for finding, comparing and signing up for a plan cuts through the confusion by putting honest, fair information in the hands of consumers. With the side-by-side comparisons, customers can easily see their best options at once and make an informed decision for cost savings with the simple click of their mouse. Now ZMan will provide a personal touch and image of trust that compliments the resourceful search tool.
To see ZMan at work on the Zonesty website or to learn more about using Zonesty to compare the rates of retail energy providers across Texas, please visit: http://www.Zonesty.com
About Zonesty
Changing the way people buy electricity is Zonesty's business. Simplified online resources help consumers comparison shop, find the best electric rates in their area and complete an energy agreement for their home or business in less than 10 minutes. Zonesty's research tools provide quick, custom quotes based on unbiased, fair comparisons from some of the most reputable energy providers today. The pricing shown by Zonesty is completely transparent, without any hidden fees, commissions, or unexpected costs that are often associated with traditional brokers. Zonesty gives consumers what they need to make educated decisions about their electric needs on their own without a sales person or broker.