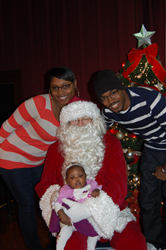 San Antonio, Texas (PRWEB) December 05, 2014
Since many of the wounded veterans at the Brooke Army Medical Center (BAMC) in San Antonio can't go home for the holidays, Impact A Hero is bringing a special celebration to them. Zonesty is happy to announce that they will be partnering with Impact A Hero to help raise gift card donations to be distributed at the organization's 10th annual Christmas event.
From now until December 16, 2014, Zonesty is helping to collect donations for the event by asking for $25 gift cards to Walmart, Target or other common Texas department stores. There are regulations requiring the gift limit be $25, however multiple cards for this amount can be donated. The generic gift cards will be suitable for either males or females of any age and can help the veterans and their family members buy much needed essentials and gifts for their loved ones. The veterans invited to the event will be especially chosen based on their needs and circumstances. It is estimated that this year's event will benefit 150 wounded veterans and their family members. Many of the family members are temporarily residing in the nearby Wilford Hall Fisher House while their parent or spouse is getting medical treatment or rehabilitation.
Santa will hand out the donated gifts to wounded veterans, their spouses and their children during a private party on December 18, 2014. For many of these veterans that are severely wounded and financially burdened by their situation, this will be the only Christmas celebration they are able to share with their families.
Gift card donations can be sent to Impact A Hero's Business Director at the address below:
Jeny Cortez
Impact a Hero
5540 Grand Lake St.
Bellaire, TX 77401
All donations are tax deductible, and more importantly will make a difference in the lives of our wounded veterans this holiday season. To learn more about the gift drive, please contact Jill Stevenson, the Chief Marketing Director at Zonesty at 512-461-6310 or visit http://impactplayer.org/donate/christmas-donation/
About Zonesty
Zonesty has revolutionized how people in Dallas and Houston buy their electricity by providing simple online resources that allow customers to compare today's top electric plans. Customers can compare the latest electric rates, providers and plans that are currently offered. Once customers have found the ideal plan, they can then complete an energy agreement for their home or business in less than 10 minutes. All quotes are based on unbiased comparisons, and the transparent pricing is free of hidden fees, commissions and unexpected costs that are often associated with traditional electric brokers.