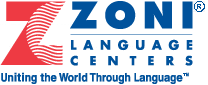 Zoni Reports Increase in the Enrollment to English Language Training Programs
(PRWEB) October 22, 2014
Zoni Language Centers, the trusted brand in the area of imparting high quality English language training and having centers in key locations globally highlights the success of its programs and steady growth. The leading training school brand has seen a steady increase in the number of enrollments across its global locations in the recent times.
Zoni, the one stop destination for proficient and high quality English language training, reports an increase in the number of enrollments across its various language centers. The school has training centers in some of the leading commerce locations like New York, London, Toronto and Bogota, Colombia.
Recently, the English language school has been seeing a steady increase in enrollments for its various programs across centers. This growth can be traced back to an emerging need for young professionals and students to polish their language skills and master the universally accepted medium of instruction and business.
The English language school has raised the standards on English language training by having the best teachers equipped to teach and work with very diverse students who come from different corners across the globe. The hallmark of its programs is that they are designed to make everyone feel at ease and comfortable in learning and eventually becoming proficient with the language.
The course structure is designed to impart English training for those seeking different things. If one wants to brush up their language, or learn the basics, or even become adept at conversational English, the company has various courses catering to all. They even make you confident enough to get better jobs or acquire the best college education.
"We are one of the few English language schools to have training centers in some of the key global cities like New York and London which attracts individuals from across the globe for better opportunities. We at any given point have students from across almost 200 countries taking classes across centers and we are seeing huge interest, evident from the increasing enrollments," said company representative on the school's growth.
The programs have attentive and well trained professional staff and faculty to ensure that students can focus on learning and not worry about anything else. The courses provided are intensive, detailed, and interactive and all these are available at affordable rates.
About Zoni Language Centers:
Zoni was founded 20 years ago by the visionary, Mr. Zoilo C. Nieto to focus on creating world-class English language institution across key locations. The school has seen consistent growth and has its training centers in key areas like New York, New Jersey, Florida in the US and London in the UK.
Visit http://www.zoni.com for more information.
Media Contact Details-
Name: Julio Nieto (Executive Director)
Contact Number: (212)-736-9000
Email: zonionline(at)zoni.com
Address:
22 W 34th Street, New York,
NY 10001