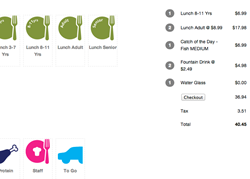 A First for Microsoft to Lead in a Space Previously Dominated by Apple
Seattle, WA (PRWEB) March 27, 2014
Zoopa (EatZoopa.com) performed the first successful test by processing a transaction on their new completely web-based POS (point of sale) system. The Seattle eatery known for amazing organic salads, baked goods and desserts in an all-you-can-eat buffet style setting took the leap in technology recently to keep up with demands of a changing culture as it relaunched itself in the Seattle food scene.
The system leverages Microsoft's core business data systems to enable a fully user customizable, web-based POS application. On the front end, it is using the Microsoft Surface Pro tablet running Windows 8 and Internet Explorer. This marks the very first fully web based POS application and a first for Microsoft products to lead in a space that has previously been dominated by Apple with solutions delivered by Paypal, Square, VendHQ, Leaf & Lightspeed typically using the iPad with accessories from Heckler Design, The Orange Chef and others. This is a big leap forward for Microsoft in a high revenue space. Multiple rumors have recently surfaced indicating that web services dominating Amazon is working on a competing tool in this space.
Technically speaking, the system is written in Microsoft ASP.Net and SQL Server database. The core POS hardware is a Windows 8 touch screen Surface Pro but it could easily be run on any Windows based PC or tablet.
At the start of the day, the cashier opens a browser in Windows (Internet Explorer, Firefox, or Chrome), which has the home page set to the web URL of our POS application, and logs in. A keyboard emulation credit card swiper is plugged into the PC via USB or Bluetooth. When the cashier has navigated to the credit card checkout screen of the POS, the card is swiped, and the data string is sent to the system via keyboard emulation. The POS application receives the data string (as if it was typed into the active browser window via USB keyboard), dissects it into the appropriate sections, and sends a transaction to the payment gateway's web-based API for approval. Upon approval, the application switches to the receipt page and triggers the browser print function, which sends the print request to the receipt printer, which is also connected to the Surface via USB or Bluetooth and is installed in Windows using normal Windows printer drivers.
The company does have a vision for greater proliferation of the Microsoft web based POS system and built it so that it is fully functional for any retail environment but no plans have been made as to how it may be offered.
ABOUT TODOBLUE
ToDoBlue is an out-crop project of HomeTask, Inc. founder, Jerrod Sessler used to manage his restaurant properties including Zoopa (EatZoopa.com) and HACO TACO, significant technology projects, his publications and other responsibilities. Sessler, a Seattleite, entrepreneur, franchise executive, cancer survivor, engineer and past NASCAR Driver lives with his family in Seattle and works close by in the company headquarters. HomeTask is a multi-brand franchisor of six home services concepts and has approx. 200 locations primarily in America. HomeTask brands currently include Freggies (organic produce delivery), Lawn Army (lawn care service), Pet Butler (pet waste cleanup), Yellow Van Handyman (your pro handyman), and Data Doctors (computer services). HomeTask also provides a service network that connects with other businesses in your area. To find out more, please visit http://www.hometask.com.