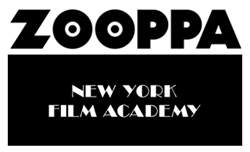 Partnering with a globally innovative institution like the New York Film Academy is a great opportunity for our clients to work with some of the best up and coming film talent in the world
Seattle, WA (PRWEB) September 29, 2014
The New York Film Academy is partnering with Zooppa, the fast-growing creative community platform that produces content for major brands. Zooppa's global social network creates advertising content with a commitment to giving talented people with original ideas the ability to work with leading brands and ad agencies. This is a great opportunity for NYFA's diverse student body to immediately impact the professional world of advertising and for Zooppa to grow its community with highly-talented filmmakers.
"We're excited to begin working with Zooppa as it adheres closely to our core curriculum
of 'learning by doing,'" says NYFA Provost, Michael Young. "Through Zooppa, students will have a chance to immediately impact the industry while continuing to hone their craft."
Originally founded in 2007 near Venice, Italy, Zooppa was launched in the U.S. in December
2008. From its global headquarters in Seattle, Washington, Zooppa has expanded rapidly,
bringing major brands from AT&T, P&G, Diesel and more than 200 others together with creative talent from around the world.
The New York Film Academy has partnered with a number of major organizations and brands
throughout its history, such as Rolling Stone Magazine, Warner Bros., The New York Jets, and others. The partnerships have and continue to provide ample opportunity and real world exposure for its student body.
"Partnering with a globally innovative institution like the New York Film Academy is a great opportunity for our clients to work with some of the best up and coming film talent in the world," says Wil Merritt, CEO of Zooppa.
Given the nature of the Academy's variety of short, long, and degree programs in Filmmaking, Acting for Film, Photography, Producing, Cinematography, Documentary Filmmaking, Animation, Screenwriting, Game Design, Broadcast Journalism, Musical Theatre, and Digital Editing, the partnership with Zooppa couldn't be more ideal as community members are typically invited to create ads in various formats. Formats often include producing a viral video, designing an animated sequence, creating a print ad, or writing scripts or concepts for potential ads.
About Zooppa:
Zooppa is the world's leading source of user-generated advertising content. With a creative community of 270,000 members, Zooppa works with global brands and their agencies to produce fresh, authentic, high-quality content. Zooppa's innovative model of social crowdsourcing offers brands and agencies a cost-effective, strategic approach to engage consumers, build online word-of-mouth, and gain marketplace insights.
For more information about Zooppa go to http://www.zooppa.com or contact Colette Marien, Partnerships Manager, at cmarien(at)zooppa(dot)com or 206.623.1587. For more information about the New York Film Academy go to http://www.nyfa.edu.