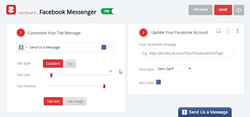 "Messaging is one of the few things that people do more than social networking." Mark Zuckerberg
Hanoi, Vietnam (PRWEB) December 03, 2015
Zotabox's Facebook Messenger integration tool is available at http://bit.ly/zotabox_facebookmessenger.
Facebook Messenger currently has over 700 million users and is the 2nd most downloaded app behind Facebook. Businesses can create a saved response and send with one click from their mobile device. Messenger for Business allows payments to easily convert a chat into a sale.
At the F8 Developer Conference in March 2015, Facebook announced it had turned its Messenger App into a platform allowing 3rd party developers to integrate their apps with Facebook Messenger. Zotabox is one of the first companies to create a tool that enables website owners to allow their customers to message them directly from their website.
About Zotabox: Zotabox is based in Hanoi, Vietnam and was founded in 2013 to provide popular onsite marketing tools for website owners. Our 11+ popular tools include stylish popups, promo bars, social buttons, contact forms etc.