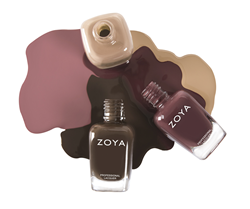 Delray Beach, FL (PRWEB) September 04, 2014
The glamour girls at MiBellaReina.com are not shedding any tears over summer ending. The heat and humidity of the summer makes it easy to cast aside. This serious summer breakup is eased by the Naturel Deux 2 Zoya Fall Collection of nail polishes at MiBellReina.com.
The collection, a takeoff on the original Naturel, is debuting with six creamy opaque shades that transcend the seasons. Designed to fall into the "less is more", the shades travel from light to dark hues of natural.The deeper shades like Marnie, a fall burgundy, and Emilia, a chocolate "bar" for the nails, completely carry the natural look into the upcoming cooler season.
With no formaldehyde, formaldehyde resin, toluene, camphor or dibutyl phthalate, the Zoya products fit the product philosophy of Bella Reina. To celebrate the Fall season, a free Remove+ Nail Polish Remover will come with every purchase of the Naturel Deux2 Collection.
While online offers the Fall collection, those lucky enough to live in South Florida, can enjoy having a Zoya Naturel nail ozone spa pedicure at Bella Reina Spa. In spa promotions are also promoting the "Fall into Glamour" theme as the spa readies for the upcoming Florida season For more information on the fall collection or information on MiBellaReina.com, email info(at)mibellareina(dot)com.
About Bella Reina: Bella Reina is the leading spa provider and definitive authority on luxury beauty, wellness, and spa treatments. Bella Reina was created by Nancy Reagan, a nationally recognized expert in beauty, nutrition, weight loss, skin care, and makeup. Nancy and Bella Reina Spa have been featured in the New York Times, WebMD, Les Nouvelles Esthetique & Spa, and PC Advisor for spa industry expertise and business success. To learn more about how Bella Reina is constantly innovating both spa services, spa memberships and shopping, please visit BellaReinaSpa.com or MiBellaReina.com.