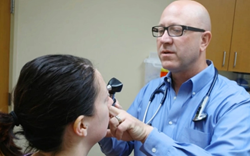 I made my products affordable, I didn't start my company for the money, I did it to help others. -Ryan Zamo
North Hollywood, CA (PRWEB) August 01, 2016
As consumers continue to seek out the secret to looking young forever, the anti-aging industry has flourished over the past few decades, becoming the most lucrative avenue in the cosmetics market. With their eye on the chemical ingredients in products today, another changing trend is the formulas consumers are willing to use on their skin, which has resulted in a massive spike over the past few years in the organic industry.
Typically created with various chemicals, and used to quickly treat age spots, wrinkles, scars and sagging skin, Retinol creams have become a prominent solution recommended by dermatologists. However, with the average retinol prescription cream costing hundreds of dollars, everyday consumers don't usually consider it an option. But that is changing; doctors now recommend a new breakthrough over-the-counter anti-aging formula by Z Skin Cosmetics called 'Retinique', and it's saving consumers thousands of dollars per year.
Dr. Mary Sung, a leading dermatologist in San Diego, is one of the many doctors that now carries the organic product in their office, she commented, "The most important component is the ingredient hyaluronic acid. As the human body ages it loses the ability to produce hyaluronic acid, causing the skin to dry out and sag, resulting in deep lines and heavy wrinkles. I recommend Retinique to my patients because it quickly restores the buoyancy of the skin, helping to even out fine lines and wrinkles faster and safer than prescription creams."
In addition to hyaluronic acid, another breakthrough ingredient in the formula is L-arginine. The amino acid works by removing unwanted waste and impurities from the body, helping the cells to regenerate quicker. When applied to the skin, it safely helps remove dark spots, dead skin cells and fine lines on the skins surface, Dr. Sung commented, "The active ingredients in Retinique produce results that parallel chemical based retinol products, that's what I find so fascinating, because it uses no chemicals at all. But what stands out the most, is that I've never seen such results from a product priced under $20, whether it was organic or not."
'Retinique', the newest product by Z Skin Cosmetics, is picking up major momentum. Available in doctors offices and online, the organic cosmetics company is gaining major credibility for its affordable products.
For more information on Z Skin Cosmetics visit: ZskinCosmetics.Com