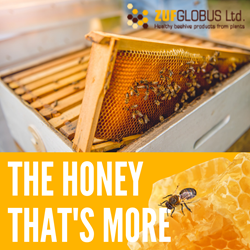 MINNEAPOLIS (PRWEB) June 03, 2022
The difference is in the bees' diet!
MELs are far different from traditional honey. One spoonful of traditional honey has about 120 active ingredients. One spoonful of MEL contains thousands of active ingredients. That's because traditional honey production relies on the bees foraging on nearby nectar and pollen.
Zuf Globus' honey bees are fed special extracts created from plants known for their wellness properties, as defined in the World Health Organization Pharmacopeia. Zuf Globus researchers have discovered that when honey bees are fed these special extracts, they significantly increase the potency of each ingredient and create new active beneficial compounds that didn't exist in the original herbs. Their final products are safely and easily absorbed by the human body.*
Available on Amazon, consumers can choose from these highly effective bee-based formulas:

LifeMEL: The most popular in the MEL lineup, LifeMEL is made using 16-herbs known to support the immune system during stressful times.
BronchoMEL: Contains a unique blend of herbs and botanicals, including Black Elderberry and Eucalyptus, well known to support respiratory and immune health.
ClearMEL: Ideal for smokers, this contains an antioxidant-rich blend of herbs that support the healthy lining of the lungs, in addition to the overall respiratory system.
DefenseMEL: Uses the power of plants to support the body's natural detox process and supports healthy immune function.
EnergyMEL: This caffeine- and nicotine-free supplement uses the power of botanicals to help restore physical and mental energy levels.
GastroMEL: A unique prebiotic made with carefully selected botanicals known to support digestive health and regularity.
LadyMEL: Contains natural botanicals known to calm menopausal symptoms such as hot flashes and restlessness, and promote a better sleep.
LaryngoMEL: Made with botanicals specially selected for their ability to support upper respiratory tract health.
RelaxMEL: Made with a precision blend of botanicals known to help manage tension, worries and nervousness and to promote calm and better sleep.
VirMEL: Made with specially selected botanicals with beneficial abilities to encourage a healthy immune response.
For additional information about Zuf Globus, visit http://www.ZufGlobusUSA.com
*Statements made in this release are not evaluated by the U.S. Food and Drug Administration. These products are not intended to diagnose, treat, cure or prevent any disease. Information provided here is not a substitute for individual medical advice.
About Zuf Globus
Zuf Globus develops, manufactures and markets concentrated, beehive-based nutritional supplements. Our products are produced by honey bees, which are fed only botanicals with scientifically validated, targeted health benefits. We have been developing, manufacturing and marketing nutritional supplements made from beehive products for more than 20 years.
Media contact: Media Relations Agency, 952-697-5220