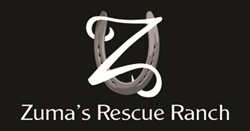 Rescue~ Rehabilitate ~Restore
(PRWEB) October 06, 2014
With this funding, Zuma's will arm the stables with heat sensors connected to cell phones for immediate notification of fire danger. In addition to the addition of heat sensors, ASPCA provides funding for an automatic gate opener to prevent horses from entering a portion of the ranch fenced with wire fencing.
About Zuma's Rescue Ranch
Zuma's Rescue Ranch is a 146- acre sanctuary for horses in need of refuge from abuse, neglect, and abandonment. Zuma's is also an equine assisted learning center for children and families in need of alternative methods of therapy.
Since 2008, the Messenich family has operated the rescue and learning center at their stables formerly known as American Sport Horses. The programs at Zuma's have grown 300% in six years, continuously rising to meet the needs of the community. Countless horses and children are provided refuge within the gates of Zuma's Rescue Ranch. The ranch holds endless possibilities for healing both horses and humans.
If you would like to join Zuma's herd of volunteers, the ranch hosts volunteer orientations every third Sunday of the month from 12:00-2:00 pm. No advance registration is necessary. Volunteers of the organization assist with horse care, facility maintenance, mentoring children, event planning, fund raising, and community outreach events.
About ASPCA
The American Society for the Prevention of Cruelty to Animals (ASPCA) was the first humane society to be established in North America and is, today, one of the largest in the world. Our organization was founded by Henry Bergh in 1866 on the belief that animals are entitled to kind and respectful treatment at the hands of humans, and must be protected under the law. Headquartered in New York City, the ASPCA maintains a strong local presence, and with programs that extend our anti-cruelty mission across the country, we are recognized as a national animal welfare organization. We are a privately funded 501(c)(3) not-for-profit corporation, and proud to boast more than 1 million supporters across the country.
Zuma's Rescue Ranch
Littleton, Colorado
80125
303-346-7493
Media Contact: Jodi Messenich Jodi(at)zumasrescueranch(dot)com