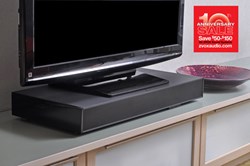 At first the market was resistant to change, but now everywhere you look, all you see is sound bars and SoundBases.
Swampscott, Massachusetts (PRWEB) October 23, 2013
ZVOX Audio, creator of the original Sound Bar and SoundBase® style home theater systems, has announced a 10th Anniversary Celebration – including sale prices on its most popular sound systems. "The ZVOX team created the world's first sound bar over 13 years ago when we were at Cambridge SoundWorks – and we made it better with our innovations at ZVOX – including the first sound bars with built-in subwoofers and the first-ever SoundBase systems," says founder and CEO Tom Hannaher. "At first the market was resistant to change, but now everywhere you look, all you see are sound bars and SoundBases."
"ZVOX really did create a new category of audio product," says Steve Weiner, co- founder of Denver retailer ListenUp. "Until ZVOX there was no simple solution to make TVs sound better."
Anniversary Sale prices are being offered on four popular ZVOX SoundBase models – the 580, 555, 420 and 320. These systems offer performance and features not found in most competitive products – including wood (MDF) cabinets, center speakers for improved midrange sound and clear voice reproduction, built-in powered subwoofers (so there is no need for external cabinets or speaker wires), and a Dialog Emphasis feature – which uses hearing aid technology for greatly enhanced dialog clarity.
About ZVOX Audio
ZVOX Audio is a collaboration of long-time industry veterans with years of experience at companies like Best Buy, Advent Corporation, Tweeter, Boston Acoustics and Cambridge SoundWorks. ZVOX Audio is dedicated to designing and manufacturing audio products that combine high sound quality, compact size, style, simplicity and affordability. In 2003 ZVOX pioneered the "sound bar" category with the introduction of its first all-in-one cabinet home theater system. In 2008 ZVOX introduced the world's first SoundBase systems, designed to be placed beneath flat panel TVs. http://www.zvoxaudio.com.
® ZVOX and SoundBase are registered trademarks of ZVOX Audio LLC.