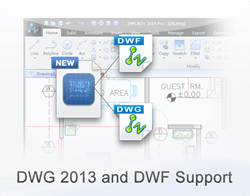 Innovations and advances like Dynamic Blocks, SmartVoice, .NET API, Cloud Integration with ZWCAD Touch, and Support for AutoCAD® 2013 File Formats just a sampling of what's new in ZWCAD+2014
Boston, MA (PRWEB) September 24, 2013
ZwcadUSA, the exclusive Master Distributor for ZWCAD in North America today announced the official release of ZWCAD+2014. This ground-breaking release shines with many advances including a brand-new .NET API interface, Customize User Interface (CUI), advanced block editing with Dynamic Blocks, and support for DWG 2013 format which enables full compatibility with AutoCAD® 2013. In addition, this release boasts several innovations – CAD firsts – such as SmartVoice; and ZWCAD Syble that enables online design collaboration by sharing designs across desktops, mobile devices, and the Cloud anytime, anywhere. ZWCAD+2014 adds significant boost to the power of ZWCAD+ with 10 ground-breaking capabilities to address the diverse needs of our customers in wide-ranging disciplines including mechanical design, manufacturing, plant, architecture, engineering, construction (AEC), civil, water, GIS, and landscape architecture.
Kanti Purohit, CEO of ZwcadUSA, comments, "ZWCAD engineers have topped themselves once again. With ZWCAD+2014, they have delivered on the promise our R and D made when ZWCAD+ was first introduced in July 2012: the new core of ZWCAD+ will serve as the launching pad that will continue to transform new possibilities into realities and will raise the bar higher for performance, functionality, and user experience. Once again, we are proud of our ZWCAD engineers for bringing these breakthroughs to the CAD community."
Purohit continues, "We also thank scores of ZWCAD users who provided valuable feedback during ZWCAD+2014 beta testing. As a result, this final release reaffirms what I have said before that ZWCAD+ is not just a new name for the next generation ZWCAD – the alternative that offers the closest AutoCAD® experience and more. And, we are celebrating this major milestone with attractive promotions. Checkout the buzz on our What's New page."
After a long and successful run as the flagship CAD platform, ZWCAD 2012 and earlier versions were retired on April 10, 2013 when ZWCAD+2012 took its place. Built upon 20+ years of CAD development experience, ZWCAD+ was written from scratch with a completely new core (kernel) and two years of intense development. And, now comes ZWCAD+2014 that exemplifies ZWCAD's commitment to exceeding the demands of today's ever demanding global CAD customer:

SmartVoice: Users can easily define, validate, and share comments with voice, making annotations much more animated and convenient;
Dynamic Blocks: ZWCAD+ 2014 augments the power and flexibility of Dynamic Block to enable faster modification and easier reuse of more sophisticated designs;
.NET API: This brand new Application Programming Interface (API) empowers design organizations as well third-party developers to leverage the value of code level API compatibility in a more efficient and timely manner;
Customize User Interface (CUI): By pulling frequently used buttons into a tool bar, users can create and work in an environment that is familiar to them thus improving efficiency and productivity;
ZWCAD Syble: With Syble, ZWCAD+ 2014 can automatically upload drawings to the cloud. And, coupled with ZWCAD Touch, designers can easily access their work and collaborate with co-workers anytime, anywhere;
Expanded File Format Support: DWG/DXF 2013 support that makes their designs interchangeable more CAD platforms including AutoCAD 2013 Furthermore, DWF files can be directly opened in ZWCAD+ 2014 without using a DWF viewer or other plug-ins, thus shortening the design cycle;
Online Update: ZWCAD+ 2014 automatically checks for updates to ensure that users always work with the latest version
To learn more about ZWCAD+2014, please visit What's New in ZWCAD+. To get a taste of what is to come,download ZWCAD+ today and experience the power of ZWCAD+. What's more, the trial is on us with no cost to you.
About ZWCAD+
ZWCAD+ is a powerful AutoCAD Alternative for 2D and 3D CAD software with native DWG format. ZWCAD+ assures unrivaled compatibility with AutoCAD® & Windows® Operating Systems including Window® 7 and Windows® 8 32- bit and 64-bit environments. For more information, visit http://www.ZwcadUSA.com.
More than 320,000 CAD professionals use ZWCAD in over 80 countries in broad disciplines including mechanical, manufacturing, plant, architecture, engineering, construction (AEC), civil, water, GIS, and landscape architecture. With 20 years in CAD development, ZWSOFT is known the world over for its courteous, timely, and knowledgeable support and friendly upgrade policies.