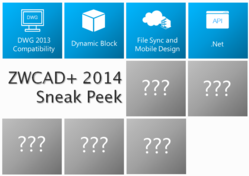 Sneak peek at the beta release reveals significant boost to the power of ZWCAD+2014 with 10 ground-breaking capabilities including dynamic blocks, .NET API, online collaboration and mobile design, and AutoCAD® 2013 file compatibility
Boston, MA (PRWEB) June 30, 2013
ZwcadUSA, the exclusive Master Distributor for ZWCAD in North America today pre-announced the beta release of ZWCAD+2014 scheduled for early July. Sneak peek at the upcoming beta release of ZWCAD+2014 reveals significant boost to the power of ZWCAD+2014 with nearly ten (10) ground-breaking capabilities to address the diverse needs of our customers in wide-ranging disciplines such as mechanical design, manufacturing, plant, architecture, engineering, construction (AEC), civil, water, GIS, and landscape architecture. New capabilities include dynamic blocks, .NET API, online collaboration and mobile design, and AutoCAD® 2013 file compatibility (DWG/DXF file compatibility). A comprehensive list of enhancements will be presented with the beta release.
Kanti Purohit, CEO of ZwcadUSA, comments, "ZWCAD+2014 delivers on the promise our R and D made when ZWCAD+ was first introduced in July 2012: The new core of ZWCAD+ will serve as the launching pad that will continue to transform new possibilities into realities and will raise the bar higher for performance, functionality, and user experience. Once again, we are proud of our ZWCAD engineers for bringing these breakthroughs to the CAD community."
Purohit continues, "ZWCAD+2014 also reaffirms what I have said before that ZWCAD+ is not just a new name for the next generation ZWCAD; it is indeed a new core with new possibilities. This beta release is coming just in time when we are joyously preparing to celebrate America's birthday on July 4. In that spirit of celebration, we are busy working out the details of our "Red, White, and Blue" promotions that will also be announced with the beta release. So, stay tuned to our What's New page."
After a long and successful run as the flagship CAD platform, ZWCAD 2012 and earlier versions were retired on April 10, 2013 when ZWCAD+2012 took its place. Built upon 20+ years of CAD development experience, ZWCAD+ was written from scratch with a completely new core (kernel) and two years of intense development. Initial set of capabilities included:

exceptional memory management technology
full resource utilization of dual-core CPUs
code-level compatible APIs
fresh ribbon UI
Since its first release in July 2012, the new core has served as the launching pad that has enabled brisk development and delivered an array of new features with the release of Service Pack 1 (SP1) in January 2013 and Service Pack 2 (SP2) in April 2013. And, now comes ZWCAD+2014 release that exemplifies ZWSOFT's commitment to exceeding the demands of today's ever demanding global CAD customer.
Product details and, of course, the details of our Red, White, and Blue promotions will be released shortly. To learn more about ZWCAD+ and the upcoming release, please stay tuned to What's New in ZWCAD+. To get a taste of what is to come, download ZWCAD+ today and experience the power of ZWCAD+. What's more, the trial is on us with no cost to you.
About ZWCAD+
ZWCAD+ is a powerful AutoCAD Alternative for 2D and 3D CAD software with native DWG format. ZWCAD+ assures unrivaled compatibility with AutoCAD® & Windows® Operating Systems including Window® 7 32- bit and 64-bit environments. For more information, visit http://www.ZwcadUSA.com
More than 320,000 CAD professionals use ZWCAD in over 80 countries in broad disciplines including mechanical, manufacturing, plant, architecture, engineering, construction (AEC), civil, water, GIS, and landscape architecture. With 20 years in CAD development, ZWSOFT is known the world over for its courteous, timely, and knowledgeable support and friendly upgrade policies.