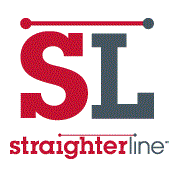 Adding Zyante as a content partner is one more example of StraighterLine's commitment to bringing the best content from the best providers for our students.
Baltimore, MD (PRWEB) October 15, 2013
StraighterLine (StraighterLine.com) announced today that Zyante (Zyante.com) has joined their team of publishing partners, which now includes many of the leading providers of online college course content including McGraw Hill, Rosetta Stone, Thinkwell, Excelsior College and more.
Zyante and StraighterLine make ideal partners because they are both on the cutting edge of using the web's more engaging, highly interactive technological capabilities to provide valuable educational experiences for today's college students taking lower-division college courses. StraighterLine's flexible online courses allow adult learners to set their own schedules, making it easier to fit college into their busy lives. The first Zyante course StraighterLine is offering is Introduction to Computer Programming in C++, a 4-credit course. Zyante's innovative interactive learning material is currently also being used at leading universities across the U.S., including University of Michigan, UC Davis and Arizona State University.
StraighterLine helps all adult learners, regardless of major, educational experience, or economic status, get a quality education online, flexibly, conveniently and affordably. This year, over 20,000 students will choose from more than 50 courses and more than 100 ways to earn college credit. StraighterLine's customized degree plans show students how they can save up to $15,000 and get their dream degrees at America's best online colleges on the road to careers in today's fastest growing, most desirable fields, including Business, Engineering, Criminal Justice, Healthcare, Nursing, Psychology and Education/Teaching.
"We are delighted to work with StraighterLine to provide this high-quality interactive computer programming class to college students. We've developed the material from scratch specifically for the web, utilizing animations and interactive tools to explain difficult concepts – key to making students successful in an online environment," says Smita Bakshi, CEO and co-founder of Zyante.
"Adding Zyante as a content partner is one more example of StraighterLine's commitment to bringing the best content from the best providers for our students," says Burck Smith, CEO and founder of StraighterLine.
About Zyante:
Zyante, a new kind of publishing company founded in 2012, is dedicated to creating interactive animated material primarily for the challenging lower-division university courses in STEM (science, technology, engineering, and math) subjects. Rather than retargeting traditional textbooks, they collaborate with professors from leading universities to create new material that takes advantage of the web. This material uses a variety of interactive tools, animations and question sets to illustrate concepts rather than lengthy text passages. The "less text, more action" approach engages students and enables deeper more-intuitive understanding.
Zyante's platform and content offerings in computer science and engineering have been used by over 7000 students across 40 universities including University of Texas at Austin, University of Michigan, University of California Irvine and University of Illinois Chicago.
For more information, visit zyante.com or email info(at)zyante(dot)com.
About StraighterLine
StraighterLine's mission is to help students reach their full potential by putting them on a straighter line towards the degree of their choice, the career of their dreams, and the life they've always wanted – on their budget and on their schedule. StraighterLine has been recognized as an innovator in higher education by major news organizations and the U.S. Chamber of Commerce. It has forged partnerships with more than 50 leading accredited online colleges and universities, where students ultimately earn their degrees after taking StraighterLine courses, lowering their cost of college and reducing their student debt.
StraighterLine's courses have been evaluated and recommended by the American Council on Education's College Credit Recommendation Service (ACE CREDIT). More than 2,000 colleges and universities consider ACE CREDIT recommendations in determining the applicability to their course and degree programs. In addition to StraighterLine's partner schools, more than 400 other schools are reported to have accepted StraighterLine coursework for transfer credit.
For information, visit StraighterLine.com or call 1-877-str8erline (1-877-787-8375).
###