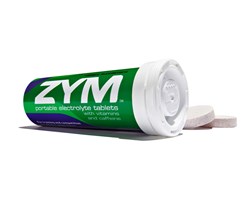 Chicago, IL (PRWEB) September 13, 2013
BE Innovations is proud to introduce its newest flavor of electrolyte drink tablets—ZYM Grape. This new ZYM flavor joins ZYM Lemon-Lime, ZYM Orange and ZYM Berry.
"It was time to add a new flavor to the mix," said BE Innovations President Brian Koff. "We surveyed our customers to see what new flavor they wanted, and grape was the clear winner."
Like ZYM Berry, ZYM Grape contains 100 mg of caffeine per tablet. It is also naturally sweetened with Stevia leaf extract, which is now being used as the sweetener for all of ZYM flavors.
ZYM is a premium quality electrolyte drink tablet that effectively hydrates endurance athletes during exercise, training and competition. At only 8 calories per serving, ZYM replaces electrolytes athletes lose during activity making natural energy, fresh legs and enhanced performance possible. In addition, its unique effervescent formula allows for quick absorption and settles the stomach during strenuous physical activities.
MSRP for ZYM Grape is $8.99 for a tube of 10 tablets.
Go to http://gozym.com/downloads.php to download the new ZYM logo and high resolution images.
About BE Innovations
BE Innovations develops portable health and wellness products for people with active lifestyles. BE Innovations is headquartered in Chicago, Ill., with distribution partners throughout the world.
For more information on ZYM, contact BE Innovations at 312 474-0744 or on the Web at http://www.gozym.com. Visit our Facebook page at facebook.com/zymdrink and follow us on twitter @zymdrink. To request sample product for review purposes contact bk(at)gozym(dot)com.