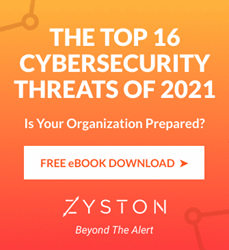 Cybersecurity has increasingly become more of a challenge for businesses of all sizes since the onset of the COVID-19 health pandemic.
DALLAS and ATLANTA (PRWEB) March 04, 2021
Zyston, a managed cybersecurity service (MSSP & MDR/XDR) provider, announces the release of its eBook which will provide readers with a clear list of all potential cyber threats they should be aware of when doing business in today's malicious cyber-attack climate. Titled, "Top 16 Cybersecurity Threats in 2021," Zyston's eBook will educate businesses on how to adapt their managed security systems to reduce the risk of a damaging cyberattack. Along with a copy of the eBook, Zyston is offering its introductory CyberCAST security assessment—the Zyston CyberCAST Snapshot—complimentary to readers. With the ability to establish a benchmark of a security program's maturity in just 15-minutes, organizations will be well on their way to a more secure system for 2021.
"Cybersecurity has increasingly become more of a challenge for businesses of all sizes as attacks by cybercriminals become more prevalent, especially since the onset of the COVID-19 health pandemic," said Craig Stamm, CEO of Zyston. "As businesses rely on remote work, cloud-based solutions and mobile devices, new cybersecurity threats continue to emerge, and businesses need to be aware of every potential risk. That is what led our team at Zyston to use our expertise to develop this new eBook that entails all of the cyber threats that businesses must be prepared for in 2021."
Sophisticated cybersecurity breaches become more paramount each year. In 2020, the FBI reported a 400% increase in the number of daily cybersecurity attack complaints since the onset of the COVID-19 pandemic. The key cyber threats businesses must be cognizant of in 2021 include remote employee endpoints, ransomware attacks, cloud-based threats, deep fakes, and more, all of which are detailed in Zyston's eBook.
Available complimentary with Zyston's new eBook is its CyberCast Snapshot, a simplified version of their CyberCAST solution which combines a technical penetration test with an industry-leading cybersecurity assessment. The tool provides a quantitative security risk score, industry comparative benchmarks, and both a strategic and tactical roadmap to improve that score. The penetration test component focuses on evaluating findings based on business risk and categorizing vulnerabilities based on systemic or process-related issues. CyberCAST also presents all security findings in layman's terms that are easy to comprehend and communicate to one's executive leadership team. With other security assessment tools, findings can be extremely technical or lack the appropriate business context.
Zyston is a managed security service provider dedicated to providing businesses with a comprehensive range of end-to-end MDR/XDR services required to build and operate a mature and cost-effective information security program. Zyston combines consulting, staffing, and managed security services to provide the best cyber program management on the market today. Zyston was named as an industry leader by Forrester in the mid-size cybersecurity services space and was also named a top 250 MSSP by MSSP Alert.
For more information, visit https://www.zyston.com and download Zyston's eBook, Top 16 Cybersecurity Threats in 2021.