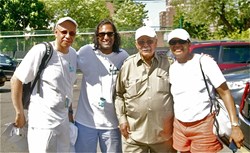 As a representative of a company with 250+ employees, all I can say is that at the organizational level, I make it a point to encourage sportsmanship, teamwork, and competitiveness
Somerset, New Jersey (PRWEB) August 01, 2013
The sporting event, which took place at the legendary West Side Tennis Club, had a number of attractions on the sidelines, including a family fun fest, a jazz fest, a film fest, and a book fest. The tournament far exceeded predictions and expectations, pulling in a huge number of tennis enthusiasts from the five boroughs.
The format of the tournament was similar to that of any other professional tennis championship. The inaugural edition of the New York Open had prize money and consisted of Men's and Women's Open Singles and Men's Doubles.
It was Rangam's second go at funding in just a couple of months, with the previous one being a student sponsorship program at the New Jersey Institute of Technology (NJIT), where the company partnered with The Think Cloud and Brian Kiernan to sponsor a group of undergrads to help them hone their entrepreneurial qualities.
"Outdoor sports form an integral part of the US culture. They are often seen as vehicles for passing on the core values that bind the very fabric of our society. As a representative of a company with 200+ employees, all I can say is that at the organizational level, I make it a point to encourage sportsmanship, teamwork, and competitiveness. I dare say tennis sums up these social attributes pretty well, besides playing a major role in developing a competitive personality that is so very essential to survive and grow in today's global village. Keeping all these pluses in mind, it was a matter of great honor for us to be able to sponsor the event. We also look forward to getting the opportunity to fund this gala event every year," said Nish Parikh, Vice President of Rangam Consultants Inc.
Vice President of TNY Mark McIntyre said, "Our mission is to promote tennis and preserve its history in New York City. To that end, we created this tournament at historic Forest Hills to promote the game by getting people as excited about tennis at the beginning of the summer as they are during the phenomenal US Open which ends after Labor Day."
Tournament vice chair Deepak Trivedi echoed McIntyre's sentiments, voicing hopes that the New York Open at Forest Hills would become "one of the most popular events in New York City because it is designed to be a fun, family-friendly event."
***
About Rangam Consultants Inc.
Founded in 1995, Rangam Consultants Inc. (RCI) is a multiple service provider with a strong presence in the US staffing industry. The company also specializes in software development, web development, infrastructure management, technical documentation, network design and implementation, and voice over IP engineering.
Rangam, together with its subsidiary WebTeam Corporation (WTC), is actively involved with the autism community globally. The iLearnNEarn app series is widely in use at homes and in the classroom, engaging a high volume of users on a daily basis. The upcoming iLearnNEarn 2nd Generation will be more structured than its predecessor and will also cover a slew of activities for preschoolers and adults on the spectrum.
About Tennis in New York (TNY)
Tennis in New York (TNY) is dedicated to increasing interest and participation in tennis in Bronx, Brooklyn, Manhattan, Queens, and Staten Island. We are also focused on enhancing the communication between existing tennis organizations in the city. Our mission is to promote tennis and preserve its history in New York. We are doing this by:

Promoting the development of tennis in the city as a means of healthy recreation and physical fitness
Leading an alliance of tennis organizations and publicizing tennis programs throughout the city
Utilizing technology to increase the efficiency of tennis providers and enhance the communication about tennis courts, playing opportunities and events
Establishing the New York Open at Forest Hills as the official tennis championship of New York City at the most historic tennis venue in the city
Celebrating tennis in the city through unique social events
Developing and supporting tennis and educational programs
Celebrating the rich history of tennis in New York City
Tennis in New York, Inc. is a not-for-profit organization which invests 100% of its proceeds in promoting and developing tennis and educational programs. It owns and operates the New York Open and the Tennis Growth System.