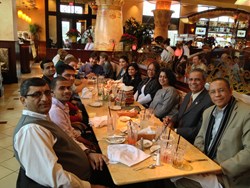 Acting as a liaison between customers and candidates, we have provided better training to the latter, just to make sure they help the former meet their goals and expectations by efficiently handling time-sensitive, priority projects
Somerset, New Jersey (PRWEB) December 26, 2013
In a lavish reception held at Hyatt Regency New Brunswick, NJ, the top echelons of Rangam Consultants Inc. outlined their strategic sourcing goals for 2014, while thanking the guests for being cooperative in 2013.
Rangam fulfilled 350+ new positions since 2008, thus securing a hefty 162% revenue growth since the great economic downturn. The newly added jobs expanded RCI's clientele while simultaneously bettering services to its existing clients from IT and non-IT industries such as pharmaceutical, banking, telecom, energy, and automobile.
"We are confident to keep up the good work in 2014," said KJ Sharma, senior adviser to RCI and its subsidiary WebTeam Corporation. "Earlier this year we felt proud to receive an award from a leading pharmaceutical client and we were also pleased, but not complacent, to be ranked among the top 5000 Fastest Growing Private Companies in America by the Inc. Magazine," Sharma added, brimming with optimism that RCI's journey to bigger and better pastures has just begun.
"At Rangam, we help highly qualified candidates find suitable jobs while ensuring our clients achieve their staffing goals by executing their own growth-oriented strategies. This year in particular has been very successful for us because we have consistently staffed quality candidates to reduce recruitment life cycles and cost-to-company for our clients. Acting as a liaison between customers and candidates, we have provided better training to the latter, just to make sure they help the former meet their goals and expectations by efficiently handling time-sensitive, priority projects," CEO Nish Parikh said.
"Our clients' success is our success, and by staffing skilled consultants for our clients' requirements, we strive to serve both parties the best we can," President Hetal Parikh said, wishing Happy Holidays and a healthy and prosperous New Year to the attendees.
The year 2013 witnessed a serious urgency in CSR activities, as Rangam was able to make a positive difference in the area of special needs education through its subsidiary WebTeam Corporation. Both Nish and Hetal thanked strategic partners from the autism community for their support and guidance, and extended words of gratitude to MSPs, recruiters and client hiring managers for their help in placing quality resources for technical and non-technical projects of the clients. They also thanked accounts managers for working closely with recruiters and customers, in order to develop a successful and lasting relationship.
Temporary staffing in the post-recession United States gives a degree of importance to strategic sourcing and sustainable business development. Success with newly added clients to its portfolio has provided the Somerset-based company significant economic leverage to strengthen its offshore facility, with an aim to have in place green business practices for the future, a close source divulged.
About Rangam Consultants Inc.
Established in 1995, Rangam Consultants Inc. is among the fastest growing temporary staffing organizations in the United States. With a team of over 230 professionals, RCI has been catering to the temporary staffing requirements of an elite pool of Fortune 500 clients from pharmaceutical, telecom, banking, energy and automobile industries. In addition to staffing and recruitment, Rangam also specializes in mobile application development, web development, infrastructure management, technical documentation, network design and implementation, and voice over IP engineering.