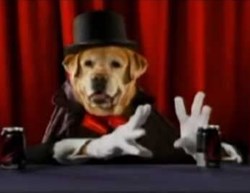 Suppose the instant an animal got lost or was found, its photo would appear on the internet!
Reston, VA (PRWEB) October 03, 2013
The first person who saw MissingCritters.com called it "shelter nirvana." The second called it "magic." The way this website worked, they realized, could save the lives of the millions of lost dogs and cats that get euthanized due to overcrowding in shelters every year. As of October 2013, MissingCritters.com reached a major milestone when someone, in every state in the continental U.S. and Washington, DC, had used it. It all began with the magic of an incredible dog.

Spencer's Magic: A Much Loved Dog Does the Impossible
He believed he had built an escape-proof enclosure. One day after work, Stuart Harris, creator of MissingCritters.com, arrived home, climbed the stairs to his backyard deck, and began laughing hysterically.
The deck was covered with unopened newspapers and Spencer, his family's dog, was jumping and spinning, excited beyond belief. Harris's first thought was, "Am I on Candid Camera?" His second thought was, "No way can Spencer be out!"
Lesson Learned: Pets Are Escape Artists
Spencer had gotten loose and retrieved every newspaper in the neighborhood. He was a yellow Labrador Retriever and had been taught to retrieve the family morning paper. Usually Spencer would run away when he got free. But on this day, retrieving was more compelling than exploring.
Even more incredible to Harris was that there was no way that Spencer could get out of his 10' x 20' x 6' high chain link enclosure. The gate was locked and the fence was "dig-proof." Three neighbors had dogs that regularly escaped from invisible fences, but this was very visible and, in theory, impenetrable. Houdini had come back as a Yellow Lab! (See Epilogue!)
Harris was determined to solve the persistent problem that Spencer represented: 7 to 10 million animals get lost annually, but less than 5% find their way home. An idea came to Harris: SUPPOSE THE INSTANT AN ANIMAL GOT LOST OR WAS FOUND, ITS PHOTO WOULD APPEAR ON THE INTERNET!
With computers, the Internet, and cell phones, there had to be a way to perform "magic." The method had to be available to everyone, be simple, and require nothing new. And it had to be free. And shelters, Harris decided, should be able to use it with almost no effort. He named his solution MissingCritters.com.
The Solution: Use a cell. Click a pick. Save a Stray!
How does it work? Almost everyone has a cell phone and can send a picture through email.
1. If a stray is found, use a cell to take a photo.
2. In the subject line or body of the email, include a ZIP code and the type of critter (dog, cat, bird, horse, livestock, other).
3. Email it to post(at)MissingCritters(dot)com. Once approved, it's posted on the MissingCritters.com website.
If the individual represents a shelter, the posting is automatically removed after a week. The magic of Spencer's escape has been transformed into the magic of a lost animal's return.
Epilogue
In order to escape, Spencer had discovered metal fatigue, the same method people use for breaking a metal coat hanger. He had gotten his nose and top teeth through the chain link fence gate and relentlessly pulled back and forth until the metal broke. Spencer is just one of millions of dogs who escape every year. Thankfully, as of September 2013, someone in every state in the continental U.S. and the District of Columbia clicked a pic to save a stray.
MissingCritters.com relies on people learning about the site through word of mouth and on Facebook, Twitter, and YouTube. For more information visit MissingCritters.com, email SHarris(at)MissingCritters(dot)com.
About MissingCritters.com
MissingCritters.com is a website founded with the vision: What if all lost and found animals could instantly be posted on a public bulletin board with almost no effort and at absolutely no charge? Our approach is simple, yet elegant – Use a cell. Click a pic. Save a stray! Companies interested in advertising to support the site can contact Stuart Harris at SHarris(at)MissingCritters(dot)com.