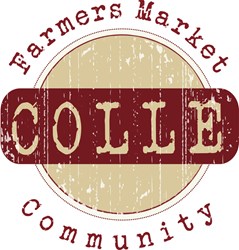 Bohemia, NY (PRWEB) October 26, 2013
Colle Farmers Market responds to an article published by The Economic Times on October 12th, which states that organic farmers in India are sidestepping supermarkets by setting up farmers markets in metropolitan areas.
According to The Economic Times article entitled "Organic bazaars come to small towns; farmers bypass middlemen," Indian organic farmers have found success selling their vegetables at farmers markets around the country. The Indian population is becoming increasingly health-conscious. Consequently, the demand for organic food has grown. Despite this, the middlemen between the farmers and customers have kept profits out of the hands of the farmers.
By bypassing the middlemen, Indian farmers' profits have risen significantly. The article says, "A team from Kobe University, Japan, found that farmers get 53% higher price by selling grain, 87% higher market price for vegetables and over 118% for leafy vegetables in the organic bazaar at Aurangabad (an Indian city), compared with conventional markets."
Directly funding the organic farmers is only one of the advantages of buying from a farmers market. The Indian farmers markets maintain fresher produce, have larger quantities of goods and sell vegetables that modern supermarkets do not carry.
A representative from Colle Farmers Market, an advocate for organic farms, applauds the growth of organic farmers markets in India. "Sustainable, organic agriculture is good for the environment, the economy, and one's health. It is nice to see India embrace organic foods and the hard-working people that produce them. Here at Colle Farmers Market, we hope the success of India's organic farmers' leads to more farmers following suit."
The Colle rep predicts that a revolt against supermarkets and industrial food could take place in the United States, just like it has in India. "The organic food movement coincides with the rise of farmers markets, and we already see that happening slowly in the United States. The events in India are a good forecast of the future of organic farming movements in the States. It's a sign that people are beginning to realize the importance of buying organic, local food."
Colle Farmers Market is an E-Commerce enabled community that is passionate about sustainable consumption and responsible conservation. The Colle movement is dedicated to connecting natural product vendors, organic farmers and all people who are living an organic and natural lifestyle.
#####