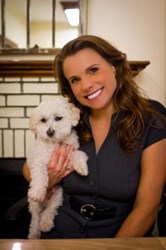 When Outlook Television approached us with sharing Tinks' Story and my pet health advocacy mission on the importance of veterinary specialists in saving pets' lives in a public television documentary to over 60 million viewers, I simply could not say no
Boise, Idaho (PRWEB) October 25, 2013
Karen Bostick, Creator and CEO of PetsPage.com announced today that she will mount a crowdfunding campaign on Indiegogo.com to seek support for a national campaign aimed to educate pet owners and the community on the importance of veterinary specialty medicine in saving pets' lives. Bostick's awareness campaign includes producing and distributing an educational documentary that will air on public television stations throughout the United States and include a 1 minute public service announcement to be broadcast on Animal Planet. The documentary will focus on Tinks' Story (See video included with this press release.) and Bostick's mission of increasing pet owner awareness of vet specialists while encouraging general vets to work together with a specialist to ensure the best possible outcome for our pets.
Bostick initiated her awareness campaign with the launch of PetsPage.com, a social pet community for pet lovers on July 15, 2013 as a place to share her pet advocacy mission with the pet community and a platform for others to share their stories as well. "I'm excited that the educational documentary and public service announcement will elevate my awareness campaign to a new level," said Bostick.
PetsPage.com's Vet Specialists Awareness crowdfunding campaign on Indiegogo.com will launch on November 1, 2013. Bostick will focus on 30 days of giving thanks for our pets and the veterinary community in general and veterinary medicine specialists in particular whom keep our pets happy and healthy and often save pets' lives. Bostick is also inviting supporters to share their stories with us at PetsPage.com and she will be interview pet lovers and share their videos throughout our crowdfunding campaign.
The PetsPage public television documentary will tell the heart wrenching story with a happy ending of Bostick and her beloved Maltipoo, Tinks. Four years ago, Tinks almost died from an auto-immune disease. Tinks was nearing death and it wasn't until Bostick learned about Veterinary Specialists, that Tinks' life could be saved. The daughter of a veterinarian herself, even Bostick did not know about Vet Specialists. Ever since, she feels it is her job to educate pet owners on how to become their pet's best advocate when it comes to the health of their beloved family pets.
Touched by Tinks' Story and Bostick's passion for her mission and believing it was a compelling human interest story with a message that needs to be heard by all pet lovers, Outlook Television, a leader in the production of public television programing contacted Bostick about sharing Tinks' Story and her mission with over 60 million public television viewers across the USA. The documentary will air for a full year in 2014 on public television stations across the USA and will include a 1 minute public service announcement that will air on Animal Planet in various regional networks throughout the country.
In addition to Karen Bostick and Tinks, the documentary will feature some of the most respected board certified veterinary specialists in the country, including Dr. Sue Ettinger, DVM, DACVIM (veterinary oncology) "Dr. Sue Cancer Vet," one of the world's leading pet cancer specialists who has recently proposed a set of national pet cancer guidelines aimed at reducing the number of cancer related pet deaths, Dr. Victoria Ochoa, DVM, MS, DACVIM, a board certified veterinary internist, who was Tinks treating veterinary specialist, Dr. Carrie Breaux, DVM, MVSC, DACVO, a veterinary ophthalmologist, and Dr. Andrew Gendler, DVM, DACVR, a veterinary radiologist.
Bostick is seeking to raise a minimum of $30,000 during the 30 day Indiegogo crowdfunding campaign through small donations from Tinks lovers among her 250,000 plus social media followers and is also seeking support from the veterinary specialty industry and its supporters. Bostick hopes at least 3000 "We Love Tinks" fans will contribute a minimum of $10 to help reach the $30,000 goal to help cover the costs of the documentary. Bostick is also seeking funds from the veterinary specialty industry as well with hopes that any additional funds raised will allow her to distribute the Public Service Announcement throughout local and regional television networks to aid her efforts in creating awareness of vet specialists. Various perks are will be as a thank you for donations, including discounts at Tinks' Shop and We Love Tinks' T-Shirts and special sponsorship opportunities for larger donations. Early supporters are encouraged to reach out now for unique sponsorship opportunities that will show their support throughout the crowdfunding campaign.
"When Outlook Television approached us with sharing Tinks' Story and my pet health advocacy mission on the importance of veterinary specialty medicine in saving pets' lives in a public television documentary to over 60 million viewers, I simply could not say no. Getting my message out to such a large audience of pet lovers in this way is a dream come true. I'm confident that with Tinks Fans' and veterinary industry support I'll be able to make this dream a reality." said Bostick.
About PetsPage
PetsPage.com is a brand new social pet community that its Founder and CEO, Karen Bostick calls, "A Place for the Social Pet." PetsPage.com has a primary mission of increasing pet owner awareness of veterinary specialists, while encouraging general vets to work together with a specialist to ensure the best possible outcome for pets, by creating an engaging social pet community platform for pet lovers to come together and share with each other as well as veterinary and pet professionals in a fun and interactive way. "I've really had fun creating new ways to incorporate more social features to attract pet owners to this important information," said Bostick.
Tinks' Story and Karen's mission has struck a chord with pet lovers around the world. During the development process of PetsPage.com, Bostick created several Facebook pages to share Tinks' Story and his adventures. The response has been overwhelming to say the least. Social media users and pet lovers all over the world not only embraced Tinks, they fell in love with him. Tinks has become a Social Pet SuperStar with Karen's Facebook pages - Karen Bostick & Tinks, We Love Tinks, and MyPetAdvocate.org, collectively garnering over 250,000 likes and growing, and Twitter, and Instagram fans by the 1000's are falling for Karen and Tinks too and are quickly joining PetsPage.com.
PetsPage.com is based in Boise, Idaho.