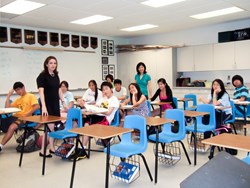 In addition to helping clients create the perfect admissions package, our mission is to alleviate clients of the stress of the graduate admissions process and give them the confidence needed to realize their goals. -Ashley Baker, CEO
Washington, District of Columbia (PRWEB) October 29, 2013
When Ashley Baker founded Civica Global Admissions Consulting four years ago, the company primarily specialized in helping high school students gain acceptance to the higher institutions of their dreams. Recently the Duke University graduate and author of "Six Weeks to Success" has found the admissions consulting company's services requested by prospective graduate students. "This is no surprise" said Baker, "prospective graduate students expect the graduate admissions process to parallel undergraduate admissions yet are shocked to discover not only its distinctive nature but also the increased level of competitiveness."
The company has since used its experience to guide prospective graduate students to present their talents and individuality in a compelling manner. With admissions consultants who graduated from the nation's top universities such as Yale and Princeton, Civica assembles a world-class team of experts to provide clients the ultimate level of service and admissions consulting expertise.
The team works with prospective graduate students to identify schools that provide the program of interest, preparation for standardized tests, refining résumés, and personal statements as well as guiding students to resources to financing their graduate experience. Civica's past clients have ranged from prospective Masters, M.D., J.D. and Ph.D students to undergraduate students and adults juggling careers. "In addition to helping clients create the perfect admissions package, our mission is to alleviate clients of the stress of the graduate admissions process and give them the confidence needed to realize their goals," stated Founder and CEO, Ashley Baker.
Understanding the complex nature of graduate admissions in addition to the busy lives of most of its prospective applicants, Civica applies a personalized form of admissions consulting that makes the process more manageable and effective for its clients. The personalized nature of the company make it easier for clients to communicate with consultants one-on-one at times most convenient for the client. The firm's elite services has led the D.C. based firm to attain an excellent reputation and become one of the most sought out consulting firms in the Washington D.C. area.