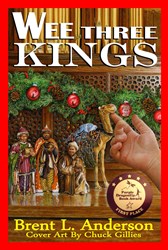 ...while working on the book, at one point he looked up to see Bill O'Reilly talking about the Wounded Warrior Project...
Wee Three Kings, Brent L. Anderson (PRWEB) December 10, 2013
"Wee Three Kings" author, Brent L. Anderson, is excited to use his book to raise funds for charity again this Christmas shopping season. On November 23rd, he had a book signing with all proceeds from that day being donated to a local United Way. During the months of November and December, the Community Christian School in Scottsbluff, NE is using sales of "Wee Three Kings" as a fundraiser. Anderson also plans on donating a portion of proceeds to a military charity this December in honor of the men and women who serve. A chapter in the book also honors those who serve.
"Wee Three Kings" is a family-friendly tale where six-inch tall ceramic figurines of the three wise men and their comical camel come to life each Christmas season. Changing hands, they weave in and out of different lives and travel around the world to complete missions of faith and goodwill. Chapter ten of the book takes the main characters on one of their most challenging missions: to bring hope and comfort to a despondent wounded soldier in a military hospital.
"Chapter ten was one of the hardest chapters to write, but it also turned out to be my favorite chapter in the book," explains Anderson.
Anderson says that while working on the book, at one point, he looked up to see Bill O'Reilly talking about the Wounded Warrior Project on TV. After listening to the news commentator for a short while, inspiration hit him – a wounded soldier character would make a great addition to the story.
The chapter turned out to be challenging. Anderson wanted the character to deal with serious issues related to loss and a traumatic injury but he wanted to keep the story appropriate for young readers. That's where the camel character came to the rescue. Anderson was able to take the camel on his own adventure in the hospital while the wee kings discussed deeper issues with the wounded soldier. By transitioning back and forth between the camel and the wise men he was able to keep the story appropriately in the children's book genre.
"Wee Three Kings" has characters from all walks of life including a sailor name Riley. Anderson dropped a few letters from "O'Reilly" to come up with that name. Riley is a nod to Bill O'Reilly who inspired the wounded warrior character. Anderson admits that other real people influenced characters in this book that is getting rave reviews from industry giants like Kirkus.
Since 1933, Kirkus has been one of the most trusted and authoritative voices in book discovery. They gave "Wee Three Kings" a glowing review:
"As Christmases come and go, the figurines are passed from place to place: an orphanage, a military submarine, a naval hospital, a retired couple's home, a pastor's family's house, and others. They use their once-a-year gift of life to aid and comfort human beings young and old, rich and poor, black and white… Anderson leavens this Christian book's evangelism with deft humor, likeable characters and a buoyant sense of magical adventure." - Kirkus Reviews
In November 2012, Anderson used book sales to raise money for charities that help orphans and the mentally ill. For Christmas 2013, Anderson is donating his know how in non-profit work as well as book proceeds to help a newly established 501(c)3 military charity, Ironmen Outreach. The mission of Ironmen Outreach is to reach the struggling, homeless, and specifically the military veterans of the Kansas City, Missouri area. "Wee Three Kings" also has a mentally ill homeless hero as one of its characters.
The book won a First Place award (with a perfect score) from Purple Dragonfly Book Awards and received a Five out of Five Star review from ForeWord Clarion Reviews.
"Wee Three Kings has what it takes to become a holiday classic… Positively enchanting from start to finish... the book charms from adventure to adventure, with hilarious moments contributed by the wee but mighty camel… tremendously appealing…" - ForeWord Clarion Reviews - 5 of 5 Stars
Anderson says he will continue using the stories and characters contained in the book to follow his own mission of promoting faith and goodwill towards others.
"My best friend is a Marine veteran that is dealing with Post Traumatic Stress Disorder (PTSD). I know firsthand how important the various military charities are to our service men and women," Anderson says.
"Wee Three Kings" can be found in paperback and Kindle versions at Amazon.com, BarnesAndNoble.com, and WeeThreeKings.com.
About:
Brent L. Anderson's eclectic experience meets the definition of a renaissance man even though he's not fond of that overly used term. He is the author of the award winning book, Wee Three Kings, he is an inventor with two U.S. patents (with others in the works) and he is one of an elite few to receive a black belt from martial arts legend Jim Harrison. Brent's talents include drawing, painting, graphic design, and making a perfect espresso. He has acquired millions in grant funds for various non-profits during his career in the human services field and is the owner of a security consulting business and martial arts school. He takes inspiration from the words in Micah 6:8 –Act justly – love mercy – walk humbly.