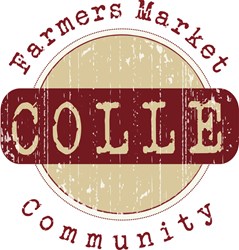 Bohemia, NY (PRWEB) November 05, 2013
Colle Farmers Market, an organic farming advocate, responds to an article published by Charlottesville Tomorrow on October 27th, which chronicles one couple's efforts to establish a holistic, organic farm in Virginia.
According to the Charlottesville Tomorrow article titled "New farm aims to go beyond 'organic,'" SylvanAqua Farms, a $30,000 startup owned by Chris and Annie Newman, is seeking to become a holistically managed farm, only growing a small amount of food for their family and a small batch of local customers. The article says the couple started the farm in an attempt to become closer to the land and reconnect them with native agriculture practices. Chris, a descendant of the Piscataway Conoy tribe of Maryland, says he was disgusted by the way conventional farmers treat livestock and confine them to small pens.
The couple sold their home to raise money to build the farm. The article says they also set up a Kickstarter campaign, which has fundraised over $8,000 so far for equipment.
While SylvanAqua Farms currently only sells pumpkin pies and broiler chickens, the article says the couple plans to expand to include eggs, port, honey and heirloom vegetables. The couple describes their farming process as 'beyond organic.'
In the article, Chris Newman says his process allows people to understand where their food comes from. "When I have customers come here, they'll see me processing chickens, they'll see me doing things with compost or in the gardens. They don't need to see a label."
A representative from Colle Farmers Market, an advocate for organic farming, says organic does help consumers make more sense of what's being added into their food. However, the Colle rep praises the Newmans for taking the initiative to form a relationship with customers.
"It's refreshing to see farmers taking the initiative to not only produce naturally organic food, but to show consumers where their food is being grown and how it is being prepared," he says. "The Newmans show dedication to the environment and have a great respect for animals. More farmers should follow suit to prepare organic meat and vegetables. Organic food is better for us and we should all be reverting back to more natural processes."
Colle Farmers Market is an E-Commerce enabled community that is passionate about sustainable consumption and responsible conservation. The Colle movement is dedicated to connecting natural product vendors, organic farmers and all people who are living an organic and natural lifestyle.