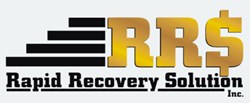 Bohemia, NY (PRWEB) November 05, 2013
Rapid Recovery Solution, Inc. issues a statement regarding exorbitant fees attached to credit cards for small business owners.
According to an October 14 article from Time titled "Small Business Credit Cards May Lack Consumer Protection," banks are now marketing predatory credit incentives to businesspeople. The Credit Card Accountability Responsibility and Disclosure Act was enacted in 2009 to protect cardholders from unexpected and inflated fees. However, the bill's authority only extends to consumers, leaving commercial cards vulnerable to such abuses.
The Time article highlights one credit card with potentially dangerous terms in particular. According to the article, the NFIB Business Edition Master Card is issued by First National Bank of Omaha and bears the name of the National Federation of Independent Business. Despite the organization's endorsement, the card targets small business owners by raising their rates whenever, and by much the bank desires. Moreover, cardholders are subject to a substantial 30 percent APR penalty for late payments.
John Monderine, CEO of Rapid Recovery Solution, offers his take. "Commercial credit cards remain attractive for small business owners because, unlike consumer cards, they do not directly affect an individual's personal credit score. It is truly disheartening, however, to see hard-working Americans targeted by credit providers." Monderine continues. "Rapid and commercial debt collection agencies know that accumulating debt could be detrimental to the success of an enterprise. It is essential that business owners select the proper credit options and avoid excessive fees wherever possible."
Founded in 2006, Rapid Recovery Solution, Inc. is headquartered at the highest point of beautiful Long Island. Rapid Recovery Collection Agency is committed to recovering your funds. We believe that every debtor has the ability to pay if motivated correctly. We DO NOT alienate the debtors; we attempt to align with them and offer a number of ways to resolve not only your debt but also all their debts.
#####