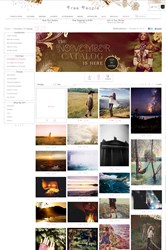 With the introduction of Inspiration Pics, we open up a world of creative possibilities for our customers.
Philadelphia, PA (PRWEB) November 13, 2013
On November 13th, 2013, specialty fashion brand, Free People, will officially introduce a new user-generated content capability to the brand's website: Inspiration Pics. This is an expansion of the brand's FP Me program, launched last spring, which created a social fashion community where customers can share photos of themselves in Free People product and appear across Free People's website and app. With this release, customers will now have the ability to contribute mood imagery to any Free People 'Trend' from the website.
An Inspiration Pic is any image that embraces the spirit or theme of a Free People Trend. Additionally, the website's Instagram integration allows fans to quickly share everything from amazing wildlife to cityscapes, and more. FreePeople.com aims to become more than just a place to shop and share style, but also a place for discovery and a creative outlet for the brand's fans. Contributors can add their Style Pic and Inspiration Pic images to any Trend by simply adding a hashtag in the comments of their uploaded image. Each Trend category will become a shoppable mood board where fans can share inspiration through style, photography, art, and more.
"With the introduction of Inspiration Pics, we open up a world of creative possibilities for our customers. Creativity, including photography and art, are such core elements of our brand ethos," says Jed Paulson, Director of eCommerce and Marketing for Free People. "We are thrilled to add this much-requested capability to our platform, and to allow our customers to further demonstrate their own creativity, and more deeply engage with our brand."
To launch Inspiration Pics, Free People enlisted a group of emerging photographers as the first contributors. The talented group was hand-picked by the brand and includes Agnes Thor, Erin Yaeger, Annie Edmonds, Galen Oakes, Ashley Jordan Gordon, Jillian Guyette, Cara Jo Castellino, Shannon Miller, Rus Anson, and Jenavieve Belair. To kick things off, each photographer contributed photos of their interpretation of Free People's November catalog, which is based on the five elements: Earth, Air, Water, Fire, and Spirit. By hashtagging #FPFiveElements to their pics on the website, their shots are populated to the November Catalog Trend page. Additional sharing capabilities to Pin lookbook images on Pinterest, will launch simultaneously.
These features will roll out to Free People's iOS app in the coming weeks. The Free People app was developed in partnership with WebLinc, a leading eCommerce platform and strategic services provider, delivering smart, innovative, brand-building solutions for online retailers.
About Free People
Free People is a specialty clothing brand featuring the latest trends and vintage collections for women who live free through fashion, art, music, and travel. The eclectic look consists of quality apparel, shoes, and accessories that invoke attributes of femininity, spirit, and creativity with its design. Free People is distributed globally via direct channels including the Free People Global site and Free People UK site, as well as specialty boutiques, top department stores, and the brand's free standing retail locations in the U.S. and Canada.