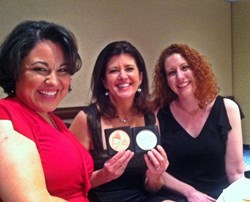 The past 10 years have proven that we rarely follow someone else's path - and that has made all the difference.
Anacortes, WA (PRWEB) November 25, 2013
Two prestigious Stevie® Women in Business Awards have been bestowed upon Vicki McManus of Anacortes, Wash. As co-founder of two rapidly growing dental businesses in the United States—Neighborhood Smiles LLC and Productive Dentist Academy LLC—she is this year's recipient of the silver medal for Female Entrepreneur of the Year. In addition, her marketing team at Productive Dentist Academy was selected bronze recipient for Outstanding Web Design.
"Becoming a successful entrepreneur takes every ounce of time, energy and creativity one can muster." said McManus of receiving the honors. "I know without a doubt that our success comes from attracting talented people to the company and daring to carve out our own niche. The past 10 years have proven that we rarely follow someone else's path - and that has made all the difference."
These awards were handed out to her and other members of her management team during an awards ceremony Nov. 8 in New York City. Others attending the function included Jackie Adame, Director of PDA Marketing Group and chief strategist for Productive Dentist Academy, and Regan Robertson, Creative Director at the Academy.
McManus began her career in dentistry in 1979 as a dental assistant and worked clinically as a dental hygienist from 1982 to 1995. Through continued education in marketing, management and finance, she then focused her career on business development. In 1996, she became a part of a franchise organization co-founded by peak performance coach, Anthony Robbins. She then went on to help found Productive Dentist Academy LLC in Washington State and Neighborhood Smiles LLC, a group of dental offices in Wisconsin and New Mexico.
"I love working in the field of dentistry," she said. "In fact, it is the only field I can think of that has such a personal impact on the health of others."
Rapid growth of Productive Dentist Academy led to that company being placed on the Inc. 5000 list for fastest-growing companies in the United States for the second year in a row in 2013 (http://www.prweb.com/releases/2013/10/prweb11182350.htm). Success and growth of Neighborhood Smiles resulted in McManus being selected as this year's silver recipient for Female Entrepreneur of the Year of the Stevie Awards.
Stevie Awards for Women in Business are the world's top honors for female entrepreneurs, executives, employees and the organizations they run. All individuals and organizations worldwide are eligible to submit nominations – public and private, for-profit and non-profit, large and small. The 2013 awards received entries from 18 nations and territories.
About Productive Dentist Academy and its Marketing Group
Founded in 2004, Productive Dentist Academy has already become one of the country's leading providers of dental marketing and dental consulting services as well as the country's most highly-sought-after provider of dental seminars for dentists seeking to increase their practices' efficiency and profitability with continuing education for licensed dentists. Owned by Dr. Bruce Baird (President) and Vicki McManus (CEO), Productive Dentist Academy also helps mid-career dentists begin the process of preparing their practice for transition. The Academy consists of a team of consultants in the areas of business development, dental hygiene, public relations, dental marketing, insurance/PPO negotiation, and other major fields of dentistry. This team helps dental practices execute agreed-upon plans to increase productivity, profitability, team building, improved service mix, hygiene department development, and more. The company is based in Anacortes, Wash., and currently works with more than 1,200 private-practice owners throughout the United States.
About Neighborhood Smiles
Neighborhood Smiles consists of a group of dental offices located in Wisconsin. Dentists in these practices provide progressive care, including general dentistry, cosmetic orthodontics, and emergency care. These healthcare professional teams pride themselves in providing personalized, individual care for the entire family. For more information about Neighborhood Smiles, visit http://neighborhoodsmiles.org/our-philosophy/.