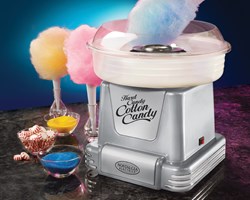 The ever-innovative brand has released a number of new items in 2013, all of which make perfect gifts for the pickiest people on consumers' lists.
Green Bay, Wisconsin (PRWEB) November 26, 2013
Consumers looking to buy an extra-special gift this holiday season need look no further than Nostalgia Electrics. The ever-innovative brand has released a number of new items in 2013, all of which make perfect gifts for the pickiest people on consumers' lists.
For anyone who loved "The Great Gatsby" book or movies, the Roaring '20s Kettle Popcorn Popper is bound to be the choice gift. Its style is evocative of that decade of jazz and glamour, making it a stylish way to snack. The Gatsby Series Roaring '20s Kettle Popcorn Popper pops 10 cups of popcorn per batch and is available at Bed, Bath & Beyond stores.
It doesn't get much more convenient than having a beverage of choice flow right out of the fridge, and that is just what recipients of the Retro Series Dispensing Refrigerator will enjoy. The retro red unit's gravity-fed dispensing system takes consumers' favorite beverage from the interior tank to their waiting glass at the perfect serving temperature. Great for dorm rooms, offices and more, Nostalgia's newest fridge is a must-have.
From '20s-style to '50s-style and now the future, Nostalgia Electrics has a modern look that consumers looking for a healthy, air-popped snack will love. The sharp lines, three bright color options and reasonable price point of the company's new hot air popper make it a great gift for health-conscious popcorn lovers of all ages. Available in red, yellow and blue at Best Buy stores, this new model will fit with a variety of décor themes.
The most discerning shopper will want to check out Nostalgia's newest line, the Retro Series Platinum Edition, available exclusively at Nordstrom stores. With its sophisticated silver chrome coloring, these new units have an upscale look perfect for that someone special. The new Platinum Edition includes the Snow Cone Maker, the Kettle Popcorn Maker, the Hot Air Popcorn Maker, the Pop-Up Hot Dog Toaster, the Hot Dog Roller, the Hard and Sugar-Free Candy Cotton Candy Maker and the Frozen Beverage Station.
Nostalgia Electrics also rolled out a new look for its everyday items this year with its Living by Nostalgia brand. In addition to the customer-favorite griddles and buffet servers, the line also includes sleek wine coolers that are at the top of wine aficionados' wish lists. With everything from wine, popcorn and other new items like the Gummy Candy Maker, 2013 was a banner year for Nostalgia Electrics and even better for gift givers looking for unique products.
"Whether it's birthdays, Christmas, Hanukkah, anniversaries or just because, our newest items make great gifts, and our classic units have always made great gifts," said Gregg Bond, President of Nostalgia Products Group. "You can't go wrong with Nostalgia Electrics this holiday season."
For Product Features on these items, visit http://www.nostalgiaelectrics.com.
These items by Nostalgia Electrics are distributed by:
Nostalgia Products Group, LLC
1471 Partnership Dr.
Green Bay, WI 54304-5685
About Nostalgia Products Group, LLC:
Nostalgia Products Group, LLC, designs, manufactures and markets the Nostalgia Electrics brand of small electric appliances, a wide range of innovative products with a history of exciting consumers and retailers alike.
NPG products are sold through all major channels of distribution from both within the United States and to over 30 other countries. Retail and e-retail sales include all major department store chains, home shopping networks, catalogs and e-commerce companies, and the company's products carry the ETL, UL, GS and SSA electrical approvals internationally. In addition to product development, NPG's services include sales, marketing, warehousing and distribution. For more information, please visit Nostalgia Products Group, LLC online at: http://www.nostalgiaelectrics.com.
For more information, please contact:
Sales and Marketing
Nostalgia Products Group, LLC
Phone: 920.337.9800 Fax: 920.337.9984 E-mail: gbond(at)nostalgiaelectrlcs(dot)com
For media inquiries, please contact:
Karilyn Robinson
Nostalgia Products Group, LLC
Phone: 805.337.9800 x153 E-mail: krobinson(at)nostalgiaelectrics(dot)com
###