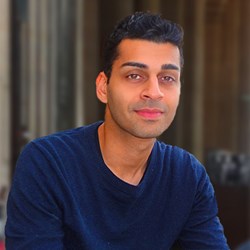 New York City, NY (PRWEB) December 08, 2013
Fully understanding the difference between dealing with a paying client and attracting a prospective one, should be obvious. However, time and time again professionals use what can only be described as "canned" efforts to attract what every business owner truly wants; a continually growing new client base.
Struggling to transfer empathy to their prospective clients online, busy professionals often miss the small details that could actually keep them in the running for potential business daily.
For instance, physicians and lawyers seem very methodical and detail oriented when it comes to dealing with their paying clients, however they are the polar opposite when actually converting their visitors into paying clients. Their approach when trying to win a new client by way of using platitudes on their adverts and web pages, makes it all too easy for the prospect to run off to a competitor.
Enter Shamir Relé. His company, Multiply My Business, is focused on highlighting a professional's approachability and ability to close, through the use of education and advice throughout all their marketing messages. With that understanding, he creates a plan to turn cold site visitors, into paying customers.
Targeting professionals from all fields such as physicians, lawyers, coaches, and realtors, Shamir evaluates companies current marketing process, and then works collaboratively to create actionable plans to increase sales and profits. Relé said of the process, "At the end of the day this is about how to get more clients. Every piece of advertising should elicit an emotional response, create a special rapport, and never underestimate the company's benefits to the client they're hoping to gain."
One of Relé's tools on how to close more clients suggests that web pages should provide exceptional advice, as a way to engage site visitors to make contact. He states, "getting more clients doesn't lie in using recycled verbiage. Well crafted information that's personal and approachable, gives the potential client the idea that a business owner took the time to impart their knowledge free of charge, that will actually benefit them in some way. This is an exceptional way to close more customers."
About Shamir Relé:
Shamir Relé is the founder of Multiply My Business based in Jersey City, New Jersey. He is a consultant for professional services, as well as enterprise level businesses in promotional strategies online.
For more information, visit http://www.multiplymybusiness.com.