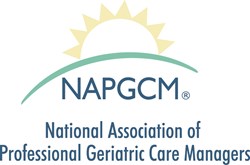 "Adult children often encounter resistance from their aging parents when they suggest help is needed. How you approach your parents can make a big difference," said Jullie Gray, NAPGCM President
Tucson, AZ (PRWEB) December 17, 2013
The Thanksgiving meal was delicious. The holiday presents were opened. But in the course of the celebrations Dad had a fall. And it wasn't from the eggnog. Mom had milk in the fridge from the 4th of July. They need help. But they say they are fine and you are just interfering. Professional Geriatric Care Managers work with seniors and their families across the country and know this is a challenge faced by thousands of adult children of aging parents in every community.
To address this challenge, aging experts at the National Association of Professional Geriatric Care Managers (NAPGCM) have developed 7 tips to help families successfully approach an older parent's resistance to accepting help.
For many families, the holidays are the one time of the year they can physically "check in" on older loved ones. Before Thanksgiving, the aging experts at NAPGCM released 7 potential warning signs that could mean that loved ones need medical attention or more assistance to continue living independently. The tips released today provide help as adult children follow up on one or more of these warning signs.
"Adult children often encounter resistance from their aging parents when they suggest help is needed. How you approach your parents can make a big difference," said Jullie Gray, NAPGCM President. "These tips can help families approach a challenging situation."
The strategies developed by NAPGCM experts released today are:
1) Figure out which family member should have the conversation with your parent. Who is your parent most likely to listen to on a matter like this?
2) Pick a good time to have the discussion. Don't have the talk after a bad day at work when the adult child's patience is spent or when a parent has had a sleepless night.
3) If your parent says they don't need any help, agree with them they don't need help with (name at least 4 things) but they could use some help with the garden or housekeeping (starting with something that isn't personal is best). Then give a suggestion of someone you have vetted already.
4) Engage your parent's health professional to write a prescription for care with some activity of daily living - like preparing fresh and healthy meals. Assist your parent in finding a caregiving agency or hire a professional to work with you for an individualized approach. Sometimes parents take advice from the "professional" but not the child.
5) Tell your parent nothing is written in stone. The help they will get is "a trial period."
6) Be sure to start slow with caregiving - even if you know they need many more hours of help. Build the relationship and trust first- prepare the caregiver with your parent's likes and dislikes and prepare them for possible resistance.
7) If a parent has a dementia, it is best to consult with a professional care manager on strategies that might work. These strategies might include learning how to communicate with someone who has a dementia that reduce resistance and often include learning how to use "therapeutic fiblets" to accomplish goals that protect dignity and self-esteem.
About NAPGCM
The National Association of Professional Geriatric Care Managers (NAPGCM) was formed in 1985 to advance dignified care for older adults and their families. Geriatric Care Managers are professionals who have extensive training and experience working with older people, people with disabilities and families who need assistance with caregiving issues. They assist older adults, who wish to remain in their homes, or can help families in the search for a suitable nursing home placement or extended care if the need occurs. The practice of geriatric care management and the role of care providers have captured a national spotlight, as generations of Baby Boomers age in the United States and abroad. For more information or to access a nationwide directory of professional geriatric care managers, please visit http://www.caremanager.org.