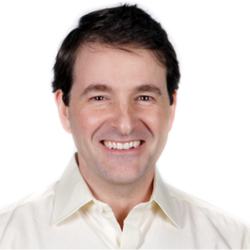 Knewton's work is leading education out of the Dark Ages.
(PRWEB) July 09, 2013
Core of Education explores the future of education, with this second installment in the ISTE podcast series. Core of Education host, Dr. Rod Berger, and Jose Ferreira, founder and CEO of Knewton, cover a range of topics including Knewton's new Houghton Mifflin Harcourt partnership (which impacts 60 million students in 120 countries) and focus on the effects of personalized learning.
Knewton leads the world in adaptive learning. Through strategic partnerships they enable personalization on a massive scale with the mission to enable others to provide high-quality educational experiences to more students around the globe.
Dr. Berger expressed enthusiasm about the talk stating, "Knewton's work is leading education out of the Dark Ages. Jose, in my opinion, is the next Bill Gates and his work will not only radically alter education, it'll also revolutionize society." Highlights of the interview include the role of the teacher in a world enhanced by Knewton, Knewton's widening impact moving forward, Knewton's Houghton Mifflin Harcourt partnership, the origin of Knewton, and Ferreira's take on the four types of education data.
Want more from Mr. Ferreira? Try his popular blog where he writes about all things Edtech.
###
About Core of Education
The Core of Education is an op-ed blog and podcast interview series hosted by Rod Berger, PsyD, and underwritten by RANDA Solutions. The Core focuses on vital issues to educators and policy-makers, as Dr. Berger interviews key education thought-leaders from across the nation and around the world. Core podcasts work to provide a platform for open, honest discussion and debate on education challenges and triumphs. Berger, interviews international policy makers, ed entrepreneurs, state commissioners, district admins, and teachers and strives to insure everyone involved has a platform to learn, and that's what's at the "core of education".