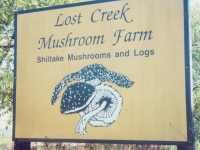 We intend to spread the word about how the nutritional and medicinal properties of mushrooms can improve health and well-being. "Fungi Factoids" on our Facebook page is making that happen,
Perkins, OK (PRWEB) July 31, 2013
Lost Creek Mushroom Farm has extended its web presence with a new page on Facebook. It has been a long time coming.
"We're a small Ma & Pa business and I am technologically challenged," said owner Sandra Williams, known online as The Mushroom Lady. "I saw Facebook as too much for me, despite attending a number of workshops and seminars on social media marketing. We had one of the very first websites on the Internet and it was a great step forward. Even so, I resisted stepping up and out into social media. Now, after only a few weeks, I love it!"
Lost Creek Mushroom Farm started growing shiitake mushrooms on hardwood logs in the mid-1980s and became a business in 1993, selling grow-your-own shiitake mushroom log kits. "The first weekend our website was up it had over 6,000 hits -- and one sale. It was years before the website functioned as a successful marketing tool. Now the focus is on driving business to our website. Our Facebook page can do that, telling people about the wonderful benefits of shiitake and other mushrooms and selling shiitake log kits."
The Mushroom Lady had the help of 18-year old friend Jesse Cantrell, who suggested regular Facebook postings to keep attention on the farm. "That was the beginning of Fungi Factoids," Sandra explained. "Doug and I are far more than just shiitake mushroom farmers. We see ourselves as spokespersons for the mushrooms – the many kinds of healing mushrooms in addition to shiitakes."
Sandra, a professional speaker, presents programs on mushroom production methods, health and medicinal benefits of mushrooms, and on Oyster Mushroom Production as a Successful Tool for Economic Development in Ghana.
"Mushroom farming offers economic security to small-scale farmers all across the developing world. It's creating economic opportunities in the US, too."
Mushrooms have health and medicinal benefits well beyond what most people know or have heard about. Sandra said, "The snippets on Fungi Factoids are a fun and easy way to build up knowledge and take advantage of current research for health.
"Our dog Auggie had an auto-immune disease and I managed it with reishi-shiitake capsules with the blessings of our holistic veterinarian. Recently I read research reporting that oyster mushrooms have antibiotic properties equivalent to some medical antibiotics. When I got an infection, I took oyster mushroom powder, made up some capsules and in three days healed it."
In 2012 Doug and Sandra created The Voice of the Mushroom Foundation to promote shiitake farming and to teach consumers about mushrooms, increase consumption, and create a higher level of health and well-being for people worldwide. They traveled to Beijing, China, to the International Society for Mushroom Science Conference and toured mushroom operations in Yunnan Province.
"The wealth of research and information on the nutritional and medicinal values of mushrooms was amazing. Scientists, especially in China, Japan, and Malaysia have made huge strides in studying the health benefits of mushrooms.
"This year we are returning to Beijing for the International Medicinal Mushroom Conference," Sandra said. "I'm expecting several years' worth of Facebook Fungi Factoids!"
She added, "We extend our knowledge and we support our travels, our Mushrooms in Ghana Project (which is making good progress), and The Voice of the Mushroom Foundation activities with our log kit sales. As we learn more, we want to do more, and that means more sales. We needed to develop this Facebook page and take advantage of its marketing power."
Lost Creek Mushroom Farm sells shiitake log kits ranging in price from $18-$95 including shipping. The kits will grow fresh shiitakes every two months for years. Also available on Amazon.com at slightly higher prices. Free brochures and order line at 1-800-792-0053.