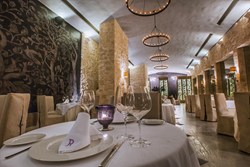 Without a doubt, Ramona is one of the highlights of the many outstanding culinary options available at NIZUC.
Punta Nizuc, Cancun, Mexico (PRWEB) August 15, 2013
The award-winning hotel chain, Las Brisas Hotel Collection, announces that NIZUC Resort & Spa—the first property to be part of their new luxury elite brand—will be home to Ramona, one of six gourmet dining experiences that will be available at the exclusive resort located in Punta Nizuc, the Yucatán Peninsula's most serene enclave. Ramona offers an exquisite Mexican dining experience where guests can relish in the savory spices and inviting aromas of traditional dishes prepared with delectable contemporary twists.
With its sublime setting and enticing selections, Ramona is poised to become the region's next big dining sensation. From its creamy soups and heavenly appetizers, to its succulent entrees featuring fresh fish, chicken and lamb, guests will enjoy an exquisite variety where they can relish in the tantalizing offerings from Ramona's ample kitchen.
Visitors to Ramona can enjoy a bevy of heavenly dishes, all gingerly prepared with the extraordinary touches of Chef García. Some notable selections from Ramona's diverse menu include: Cream of Black Bean Soup with Serrano Ham and Espelon Beans, Mexican Gyozas stuffed with Pork Crackling Crust and Salsa Xnipec, Roasted Mahi Mahi Filet with Lobster Reduction and Pomegranate, Poblano-style Chicken Breast stuffed with Manchego Cheese, Red Mole and Fine Herb Salad and Veal Loin with Brioche Corn Romesco and Fresh Vegetables.
"Without a doubt, Ramona is one of the highlights of the many outstanding culinary options available at NIZUC," says Louis Daniel, NIZUC Resort & Spa's General Manager. "Chef García's imaginative menu, and the extraordinary touches that he gives to each one of his preparations, will give our guests the opportunity to experience authentic Mexican cuisine as they never have before."
Chef García is a rising star amongst a new generation of young Mexican chefs. His extensive experience in luxury resorts and restaurants throughout Mexico has allowed him to explore and develop a deep appreciation for his homeland's culinary heritage. NIZUC's Ramona is the resort's flagship restaurant, and Chef García intends to live up to its name by offering authentic regional Mexican cuisine sprinkled with unique contemporary touches.
As NIZUC's signature restaurant, Ramona also features The Chef's Table where patrons are invited into a private dining room to indulge in a creative and personally designed menu prepared by the resort's Executive Chef, Vincent Wallez. With seating limited to only 8 guests, visitors of the resort will be thrilled to be among the privileged few to enjoy this second-to-none gourmet experience. Also among Ramona's exclusive features is their Santo Tomás Wine Cellar where a decedent selection of vintages is available to explore and enjoy.
From its magnificent location to its exceptional culinary selections and unsurpassed service, private pool villas and lavish suites; NIZUC Resort & Spa will challenge the exclusivity of the most renown hotel brands in the world. NIZUC Resort & Spa — A Mexican Spirit, A Mayan Soul.
The vision of the Mexico City-based Las Brisas Hotel Collection, NIZUC Resort & Spa is the flagship property of the brand's new Elite luxury resort line. Las Brisas Hotel Collection, Mexico's luxury hotel leader, operates four Resort properties: Las Brisas Acapulco, Las Brisas Huatulco, Las Brisas Ixtapa and Las Hadas Manzanillo and three Corporate properties: the Galería Plaza in Reforma, Galería Plaza Veracruz and Hacienda Jurica in Querétaro.
Las Brisas Hotel Collection is world renowned for providing unparalleled personalized service and luxury accommodations in a warm, friendly environment in exotic resorts as well as city center locations. For more information please log on to http://www.lasbrisascollection.com
For information, updates and future package opportunities visit http://www.nizuc.com, contact your professional travel agent, or call 1-855-MY-NIZUC from the U.S. or 1-800-MY-NIZUC from Mexico.