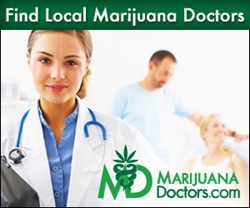 "This is the first time in history we have seen two states become legal for medicinal purposes in one week. With Minnesota, New York, Ohio and Pennsylvania pending legislation, I believe this will not be the last." -John Nicolazzo
(PRWEB) August 01, 2013
From the nation's first online search-and-booking platform, MarijuanaDoctors.com, a gratifying congratulation is sent to the state of Illinois. For an extended period of time, MarijuanaDoctors was patiently waiting on the decision of whether or not Illinois Governor Pat Quinn would sign a proposed medical marijuana measure. The time has finally come, and now the state is set to become part of an elite group that will allow debilitating and chronically ill patients safe-access to marijuana.
Similar to the situation of marijuana legalization that recently unfolded itself in New Hampshire, the company has become awestruck with the amount of increased patient requests that have been received. Typically, when a state legalizes the use of medical marijuana, MarijuanaDoctors receives close to a thirty to forty percent increase in patient requests to be seen by a licensed doctor who is able to recommend cannabis.
Initially, since the beginning of the calendar year for 2013, the company has compiled an inquiring patient waitlist that has accumulated a total of around 1,400 patients. That number is expected to greatly increase as time goes on, and by the end of the month the company's patient support services estimates the total number of patients to be somewhere around 1,800 or 1,900.
Effective January 1st of 2014, the medical marijuana measure that was signed by Governor Pat Quinn will be responsible for setting up a four-year pilot program that will outline everything from state-sanctioned dispensaries to government-designated "cultivation centers."
Within the measure there is also language that outlines the mandatory establishing of a bona fide doctor-to-patient relationship, a common segment of language that places a company like MarijuanaDoctors in an uncomfortable position. Customarily, a "bona fide" relationship consists of a series of appointments that spans around three to four months -- leaving MarijuanaDoctors in the dark due to the supposed inability to set patients up with a reputable doctor. However, this is not the case and the company vows to only let this fuel the fire that allows MarijuanaDoctors to consistently succeed.
As of right now, MarijuanaDoctors features just about six pending locations for the state of Illinois that will be able to supply inquiring marijuana patients with a distinguished and high-standing medical practitioner to recommend a compassionate medicine. With some of the most densely populated hotspots already tackled in cities such as Chicago, Aurora, Rockford, Joliet and Springfield, MarijuanaDoctors promises to supply patients with the very first marijuana doctor.
Once the physician has been effectively listed and cleared for operations, the company will be able to set patients up with a brand new doctor who is more than capable of helping patients achieve an alternative remedy. The main purpose of already tackling these densely-populated hotspots is to help patients begin to establish that "bona fide" relationship that will take at least three or four months to establish.
In a compassionate effort to legitimize the country's medical marijuana industry, MarijuanaDoctors will continue to persevere and efficiently direct patients in the right direction. The company will also continue to provide aid to the twenty legal states and vows to continue efforts towards the primary goal of assimilating cannabis to a Schedule II drug through innovative titration tracking software.
C.O.O. of Marijuana Doctors, John Nicolazzo said, "This is the first time in history we have seen two states become legal for medicinal purposes in one week. With Minnesota, New York, Ohio and Pennsylvania pending legislation, I believe this will not be the last. Now that the state of Illinois has signed a proposed medical marijuana measure, patients who are suffering can finally achieve the wellness they deserve. Congratulations to Governor Pat Quinn and the Prairie State."