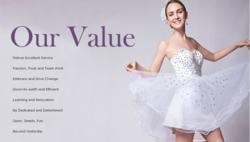 (PRWEB) August 20, 2013
Today, MM Dresses (MMdresses.com), a well-known company for its maternity prom dresses (http://www.prweb.com/releases/2013/6/prweb10877722.htm), announces that all its prom dresses are now available at new low prices, up to 69% off. According to a spokesman for the company, the special offer is valid until Sept. 21, 2013.
The promotion launched by MM Dresses covers all the prom dresses at MMdresses.com. These dresses are well-known for fashionable designs and delicate craftsmanship. According to a spokesman for the company, the promotion reflects continued growth in both sales and co-marketing initiatives, as well as an enhanced presence within the industry.
MM Dresses specializes in the designs and manufacture of high quality trendy dresses for its clients worldwide. With a fast growing turnover, the company has employed top designers to form a design team. The shopping at MMdresses.com may be one of the best investments for many women.
About MM Dresses
MM Dresses (MMdresses.com) is a high-technology company of women's dresses, offering many trendy prom dresses, little girl pageant dresses, homecoming party dresses, bridesmaid dresses, evening dresses, and more at competitive prices. The company aims to deliver its customers around the world all kinds of dresses at prices as low as possible.