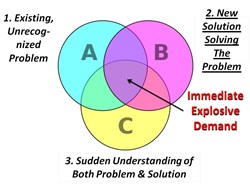 The days of translation complexity are over. It can now be used easily by any company, no matter how small.
Marlborough, MA (PRWEB) September 16, 2013
Before this innovation, reaching foreign-language readers meant: (1) translating the material; (2)
obtaining a language-tagged mailing database; (3) for each language translation, doing a mail-merge for that language only; and (4) simultaneously mailing the main-language materials alongside the foreign-language translations. That is a complicated process and quite costly in terms of human resources. It also costs four times as much for four languages, six times as much for six languages. All of which disappears with the new hyperlink-based process. And translations are provided by one of the world's Top 10 translation providers, euroscript®, for clients without their own translation firm.
THE NEW DELIVERY PROCESS INNOVATION: the client uploads the original document, defines the target-language translations needed, and arranges payment via credit card or wire transfer. No more effort is needed, and "delivery" of the translations – the key to this new development – is done using hyperlinks. The original e-mail – e.g., in English – is sent to readers of all languages with hyperlinks at the top, one for each translation language available. When a Spanish-language reader sees "Español", for example, one click will give them a Spanish translation.
The new approach is not only more convenient for the communicator (the client), but also for the reader (the client's customer or prospect). And in the future, it will be extended to print and display media – not just online communications – through further innovations already planned.
THE BASIS OF THE NEW MARKET OPPORTUNITY: Prior to Consumer Translations' new approach, delivery to end-readers has never been defined as a problem. It was simply accepted that multiple e mailings were the only solution available. As a result, many companies avoided translation strategies because they were too complex and expensive. Now, with a re-organization of the translation process, this problem has been solved. Any company can participate, and no I.T. department resources are required.
The revenue effect of this approach? A leading consultant and author in the field of new media estimates that this innovation will increase global translation billings by 20% or more within five years. The translation-plus-delivery™ method applies to mass communications, which we estimate at 1/3 of total translation revenues. Thus, a 20% increase in translation industry billings means over $2 billion in additional industry revenues, based on 2013 total industry estimates by CommonSense Advisory. That's a major increase that is available to all Language Service Providers.
Hyperlink-based distribution could become the "killer application" of the translation field. What makes a killer application? Three forces need to come together:
1. An existing but unrecognized problem.
2. A solution created to solve that problem.
3. Simultaneous buyer understanding of both the problem and the solution.
Or, in Venn diagrams, it looks something like the illustration above. The area at the center, where the three forces converge, becomes "Immediate Explosive Demand". And all three forces are present today for LSPs to harness.
The accepted approach – the translator translates, and the buyer distributes – has not previously been identified as the central problem in translation complexity. Once this is understood, and the convenience advantages of hyperlink delivery are understood, translation services become easy to buy and easy to distribute. This makes translation, for the first time, available to companies of all sizes and without need for internal client resources. This capability, once demonstrated, provides "Simultaneous understanding of both the problem and the solution".
Consumer Translations invites readers to visit their website and consider these issues. They will see translation-based services – marketing, customer support, business forms management, etc. – in a fresh new light.
Richard Tamir, CEO
Consumer Translations LLC
Website: http://www.consumertranslations.com
E-mail: CEO(at)consumertranslations(dot)com
Company Announcement Press Release at: http://www.prweb.com/releases/2013/7/prweb10926726.htm