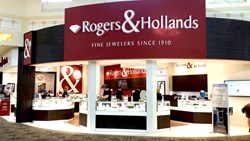 'We are very excited about this new store, and our partnership with Canadian Ice couldn't be better. Our next goal is to start rolling out this design into other locations next year,' said Sorresso.
Muskegon, Michigan (PRWEB) September 16, 2013
While many Rogers & Hollands stores had carried Canadian Ice Diamond designs since Fall 2012, the opening of the Muskegon store on September 6th has marked the first time that Canadian Ice's unique "store-within-a-store" concept has been brought to the United States.
The Canadian Ice Boutique contains exclusive Canadian Ice merchandise, including solitaires, pendants, engagement rings, as well as wedding and anniversary bands.
"Every Canadian Ice diamond by Rogers & Hollands is laser engraved with a CID insignia to authenticate its Canadian origin," said Darlene Kneisler, Diamond Buyer for Rogers & Hollands.
For the leadership of Rogers & Hollands, the decision to form a partnership with Canadian Ice was an easy one.
"In our initial meetings about the new Muskegon store, and its futuristic & state-of-the-art aspects, we couldn't think of a better partnership than one with Canadian Ice. Not only is their product gorgeous, but the precise cut & care of their diamonds cannot be overlooked," said Dominick Sorresso, VP of Merchandise at Rogers & Hollands. "I had first seen Canadian Ice in Vegas at the annual JCK Jewelry show, I was on the hunt for the ideal cut and company. With Canadian Ice, I am confident that we've found both."
According to Canadian Ice, Canadian Ice Diamonds are mined under some of the strictest environmental and safety standards in the world, and are 100% conflict free. All Canadian ice rough diamonds are mined exclusively from the Northwest Territories of Canada, the world's most sustainable, ethically sourced diamonds.
Because of this, Canadian Ice Diamonds has become known as one of the finest diamond manufacturers in the world, with Canada now ranking among the largest producers of diamonds. The partnership with Canadian Ice at the Muskegon store is only the beginning of what will hopefully be a long and exciting relationship with Rogers and Hollands.
Rogers & Hollands Jewelers:
Rogers Enterprises, Inc. is a growing fine jewelry chain with 75 stores in 9 Midwestern states. Founded in 1910, this family owned company does business under the names of Rogers & Hollands Jewelers and Ashcroft & Oak Jewelers and has become the largest family-owned & operated retail jewelry chain in the country. With four generations of family involvement, their matriarch & jewelry designer, Juell Kadet, has stressed the theme of exclusivity combined with handcrafted quality to create a long history of sustainability & success.