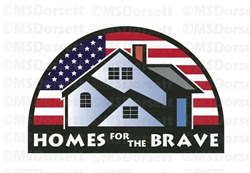 Dennis made the process simple, smooth, and receives my highest recommendation. MJ.
Virginia Beach, VA (PRWEB) September 23, 2013
VA Compromise military short sales can occur if borrowers are unable to sell a property for an amount greater than or equal to the current outstanding loan balance plus closing costs. The Veterans Administration (VA) may pay the difference to allow the sale to take place. VA Compromise military short sales in Virginia Beach and elsewhere are approved if the sales contract meets several criteria and results in a cost savings compared to a foreclosure.
Important factors that must be considered with a VA Compromise Short Sale:

The property must be sold for fair market value. (Translation – the VA or any other lender will not give away properties but want a contract within certain market value parameters). This market value will be determined by a VA appraiser during the process.
The closing costs must be reasonable and customary. In general, three percent (3%) has been the norm for the Virginia Beach and Hampton Roads area. The VA pays this along with REALTOR® fees. Closing costs being paid by the VA can be a plus for the potential buyer
The VA compromise short sale must be less costly for the government than foreclosure. This is almost always the case with a short sale.
There must be financial hardship on the part of the seller. Military members transferred or being transferred (PCS) have a hardship. Also, military members may also be eligible for a short sale under other guidelines outside the VA such as Fannie Mae or Freddie Mac programs. Consult a Real Estate Attorney for specific and free advice.
There must be no other liens, second mortgages, or judgments, unless the amount is insignificant. In situations with other liens, the seller can request that the lien holder consider releasing the lien and converting the loan to a personal loan. Virginia Beach and Hampton Roads military/veteran home owners who have a Home Equity Line of Credit (Heloc) should continue to see if eligibility requirements are met – many do.
The seller must obtain a sales contract in order to be considered for the program. To protect the seller's interest, the seller should make the sales contract contingent to the approval of VA. This is also included in the short sale addendum for Virginia Beach and Hampton Roads sellers.
About: Dennis Blackmore, REALTOR®/Agent Owner with Creed Realty, Virginia Beach, VA., specializes with military short sales. He consistently provides advice to military members selling or buying real estate, both locally and nationally. Along with his Attorney team, the success rate for short sales has been very high. Contact Dennis here with any short sale or real estate questions.