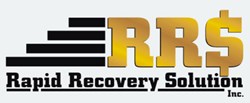 Bohemia, NY (PRWEB) September 25, 2013
Rapid Recovery Solution, Inc.endorses an economist's belief that an emergency fund is crucial, even for indebted consumers.
According to her September 23 article from The Washington Post titled "The Great Debate: Paying Off Debt vs. Stashing Cash for Emergencies," Michelle Singletary recently spared with a reader who prioritized debt payments over emergency savings. The reader contended that it is always better to pay off debt sooner than later to avoid accumulating interest fees. Emergency expenses, in effect, could be paid with credit cards, which are improbable anyway.
Singletary's countered with the reality that emergencies could never be anticipated and all one can do is hope they don't occur. Consumers who set aside money for crises, however, will benefit from the security of emergency funds. She asserts that every individual, regardless of their financial standings or outstanding obligations, should maintain some level of savings. A person should set a monetary goal for an emergency fund, and accelerate debt payments after that amount is realized.
John Monderine, CEO of Rapid Recovery Solutions, offers his perspective. "Ms. Singletary is correct in prioritizing an emergency fund early. Unforeseen circumstances happen to all of us and reliance on credit cards during crisis could be a dangerous prospect." Monderine continues. "Commercial collection agencies like Rapid often specialize in consumer debt as well. Our insight could be beneficial to many individuals."
Founded in 2006, Rapid Recovery Solution, Inc. is headquartered at the highest point of beautiful Long Island. Rapid Recovery Collection Agency is committed to recovering your funds. We believe that every debtor has the ability to pay if motivated correctly. We do not alienate the debtors; we attempt to align with them and offer a number of ways to resolve not only your debt but also all their debts.