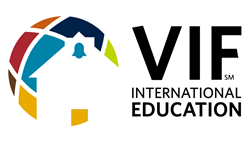 The commitment our teachers demonstrate and the impact they have on students motivates us at VIF to continue enhancing and improving our programs and teacher resources.
Chapel Hill, N.C. (PRWEB) March 27, 2014
VIF International Education, the leading provider of global education programs for K-12 schools, is proud to report that recent findings demonstrate the continuing effectiveness of its Cultural Exchange Teachers in North Carolina classrooms. Earlier this year, VIF shared inspiring news about elementary students in its Splash language immersion programs surpassing their peers in reading, math and science, and outpacing state averages. The release of UNC's latest Teacher Preparation and Performance in North Carolina Public Schools policy brief once again shows VIF's international teachers are some of the most effective teachers in the state.
Since the Education Policy Initiative at Carolina (EPIC) began releasing their yearly report on teacher preparation and performance in 2010, VIF's Cultural Exchange Teachers have been recognized as the most effective in both reading and math at the elementary level when compared to teachers trained by traditional preparation programs. In addition to being experienced and certified, VIF's international teachers foster intercultural understanding within their host schools and communities during their stay in the United States.
VIF CEO David Young remarked, "Year after year, this data reinforces what we and school leaders observe about student engagement and development in classrooms led by VIF Cultural Exchange Teachers. The commitment our teachers demonstrate and the impact they have on students motivates us at VIF to continue enhancing and improving our programs and teacher resources."
One reason for the continued success of Cultural Exchange Teachers is VIF's research-based recruitment, selection and placement process in which fewer than 10 percent of applicants are chosen to participate in the cultural exchange program each year. Developed in 2009, the process continues to select teachers who are both highly effective and committed to their schools and students. An internal evaluation shows that VIF teachers' consistently high retention rates, an important variable in teacher effectiveness, is similar to teachers trained in local and out-of-state universities.
In addition to a rigorous selection process, VIF provides Cultural Exchange Teachers with training before they leave their home countries and continues to support teachers throughout their stay in the U.S. Global Gateway, a large part of their ongoing training and support system, is accessible through an integrated web-based platform that offers dual language and global awareness curricular resources and a community of practice where teachers can collaborate with thousands of educators around the world.
Global Gateway resources incorporate evidence-based best practices for professional development and integrate technology, pedagogy and content through the VIF learning center. Anchored in project-based inquiry and global learning, VIF's resources integrate with and extend teachers' existing standards-based instructional, reflective and investigative practices, allowing them to assimilate new knowledge and materials into what they are already doing in their classrooms. Schools participating in Global Gateway consistently report increases in student engagement and achievement.
Through a combination of ongoing training and a selective admissions process, VIF Cultural Exchange Teachers are not only effective in traditional academic outcomes but are also building students who are culturally aware - a core competency needed to compete in a global society.
About VIF International Education
VIF International Education (http://www.vifprogram.com) builds global education programs that prepare students for success in an interconnected world. For more than 25 years, educators have leveraged VIF's professional development and curriculum, language acquisition and teacher exchange programs to generate engaging learning environments where students can excel in core curriculum as well as develop valuable critical and creative thinking skills. A certified B Corp and 'Best for the World' honoree headquartered in Chapel Hill, N.C., VIF provides a pathway for teachers, schools and districts to become globally designated.
Tags: cultural exchange, international teachers, professional development, professional learning network, social learning platform, language immersion, dual language, world language, bilingual, biliterate, global competence, global awareness, cultural awareness, global schools, global education, international education, curriculum, K-12, student achievement, North Carolina schools.