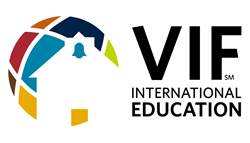 Cultural Exchange Teachers are much more than classroom educators. [They] act as cultural ambassadors, are models of global citizenship...and help students understand how much there is to learn about the world beyond their local communities.
Chapel Hill, N.C. (PRWEB) August 29, 2014
VIF International Education, the leading provider of global education programs for K-12 schools, announced this summer the arrival of 215 international teachers, hailing from more than 19 different countries, to participate in its Cultural Exchange Teacher (CET) program. The teachers join a group of more than 450 visiting teachers who already serve in traditional or dual language K-12 classrooms in North Carolina, South Carolina and Virginia.
Earlier this year, VIF shared that its Cultural Exchange Teachers have been recognized as the most effective group in both reading and math outcomes at the elementary level in N.C. when compared to teachers trained by traditional preparation programs. VIF's research-based recruitment, selection and placement process ensures that the teachers selected to participate in the program are experienced, highly competent and committed to their schools and students.
"VIF Cultural Exchange Teachers are much more than classroom educators," said VIF CEO David Young. "Our teachers act as cultural ambassadors, are models of global citizenship and are asked and expected to help students understand how much there is to learn about the world beyond their local communities. It's a big responsibility, and it's one we trust our Cultural Exchange Teachers to achieve."
Schools and districts celebrate the arrival of Cultural Exchange Teachers at welcome events like the one held at Martin Millennium Academy in Edgecombe County, N.C. Its 13 new international educators join the staff at this K-8 global school as part of the district's initiative to provide students with a truly global education. Schools that host Cultural Exchange Teachers demonstrate a strong commitment to equipping students with the skills needed to succeed in today's world by bringing authentic intercultural experiences into their classrooms.
"Cheers and excitement erupted as VIF teachers came off of the bus," said ECPS Superintendent John Farrelly. "The international teachers were astounded by the reception they have been given today in this little northeastern N.C. town. 'Traditional staff' couldn't be more excited about the opportunity before them. The impact this school could have is immeasurable. Makes you proud to be an educator."
In addition to pre- and post-arrival trainings and one-on-one support provided by VIF staff, international teachers who participate in the Cultural Exchange Teacher program also receive ongoing training and support along with access to a wealth of digital curricular resources and professional development through VIF's Global Gateway system. The VIF learning center community of more than 5,000 global educators provides a convenient platform for educators to connect and collaborate with their peers around the world.
International teachers interested in becoming VIF's Cultural Exchange Teachers should visit vifprogram.com/teach-with-vif to learn more about the application and selection processes.
###
About VIF International Education
VIF International Education builds global education programs that prepare students for success in an interconnected world. For more than 25 years, educators have leveraged VIF's professional development and curriculum, language acquisition and teacher exchange programs to generate engaging learning environments where students can excel in core curriculum as well as develop valuable critical and creative thinking skills. A certified B Corp and 'Best for the World' honoree headquartered in Chapel Hill, N.C., VIF provides a pathway for teachers, schools and districts to become globally designated.
About Cultural Exchange Teachers
Cultural Exchange Teachers are selected through a rigorous multistage screening and evaluation process, ensuring that every school is presented with a highly qualified group of international teachers ready to successfully impact student achievement.
VIF provides ongoing training and support to aid Cultural Exchange Teachers in their transition into North Carolina, South Carolina and Virginia schools and communities. All international teachers at Cultural Exchange, Splash and Passport Schools also join an online community of educators in the VIF learning center, where they have access to Global Gateway professional development and a robust library of curricular tools and classroom resources.
Tags: global-ready, global competence, global awareness, global schools, global education, international education, professional development, curriculum, K-12, e-learning, social learning platforms, professional learning networks, teachers, international educators, student achievement, 21st century skills, edtech, education technology, project-based learning, lesson plans, teacher resources, cultural exchange