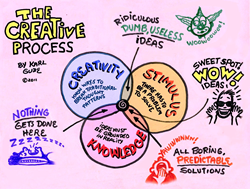 Launching a new idea is like putting together a puzzle.
Washington DC (PRWEB) February 28, 2014
Being creative is not easy, but it is a load of fun. The team at Aveya Creative takes a step-by-step approach to the creative process, breaking complex concepts into actionable points in order to make amazing things happen for its diverse clientele of entrepreneurs.

It all starts with an idea
Believe in the idea. If it's a viable solution to a pressing problem, chances are it will succeed. The next thing to do is present it properly.
Bouncing the idea off others
Share the concept with friends, family and team members. Remember that honest feedback is key; there is always room for improvement.
Innovation is all about making existing solutions better. Take the time to learn about what's already out there and how this new idea offers a unique alternative to options that tackle similar problems on the market.
Start anywhere and make the idea into something real. Whether it's an online service or a tangible product, give it an identity. Brand it.
There is always a chance of failure. That's part of what makes entrepreneurship exciting. Do not be afraid to fall flat on your face; it's all uphill from there when you get right back up.
Focus on something else for a while and let the idea in progress soak in all that genius. Don't leave for a month on a trip around the world, but a day or so to let the mind relax and then see the project from a fresh perspective is incredibly helpful.
Ask direct questions about specific elements of the idea that may seem unclear. Leaving a blank slate open for feedback on anything and everything will confuse audiences and their replies risk being irrelevant. Never just say "What do you think?" or "Do you like it?" If it's the color of the buttons on the site that are questionable, ask for suggestions about better colors and cumulate a vote on the top choice. If it's the shape of the package that looks funny, seek alternatives. Good questions = good answers.
Launching a new idea is like putting together a huge puzzle with hundreds of tiny pieces. Keep track of notes, lessons learned, aha! moments and take action on the most feedback. Eventually, the pieces come together and the big picture becomes ready to present to audiences.
Entrepreneurship and innovation go hand in hand. For continued advice on making ideas into reality, the team at Aveya Creative is always happy to help.
--
Aveya Creative is proud to be the first boutique branding and marketing agency in the nation's capital dedicated exclusively to entrepreneurs. Our mission is to transform ideas into top-of-mind brands. Core services include brand strategy, logo design, optimized copywriting, advertising, social media engagement, press releases and pitch coaching. The team at Aveya Creative has developed branding and marketing for entrepreneurs in diverse industries across the United States, including prominent tech startups at incubators such as 1776.