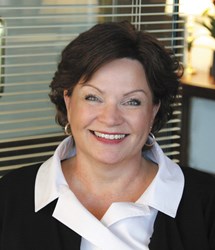 Lancaster, Pa. (PRWEB) January 09, 2014
Lancaster, Pa., law firm Hartman Underhill & Brubaker, LLC (HUB) is pleased to announce that Kim R. Smith of Manheim Township, Lancaster County, has been named managing partner effective January 1, 2014.
Smith joined HUB in 1995, became a partner in 2002, and joined the firm's management committee in 2006. She has chaired the firm's Employment and School/Municipal law groups respectively since 2000. She earned her juris doctorate magna cum laude from Temple University School of Law in 1994, her master of arts summa cum laude from The Ohio State University in 1982, and her bachelor of music magna cum laude from Muskingum College in Ohio in 1977.
Smith's practice at HUB includes a focus on school and municipal law, employment and labor law. As an employment and school law attorney, Smith offers full service representation to public and private-sector management clients. Smith provides advisory and remedial assistance to the firm's clients on a broad range of personnel matters. She routinely assists with day-to-day employment law matters, such as employee handbooks and policies, employment agreements, restrictive covenants, separation agreements, disciplinary matters, safety and compliance issues, unemployment compensation, workplace investigations, and other general employment-related issues. In addition, Smith works closely with the firm's public sector clients in a full range of employment and labor-related matters, including collective bargaining, grievances and arbitrations, and certification and decertification procedures. Smith has extensive experience representing both private and public sector clients before local, state and federal boards, including defense against discrimination complaints, unemployment compensation appeals and labor relations.
Smith is actively engaged in community service within the region. She recently served as chair of the communications committee for the fundraising campaign for the Ann B. Barshinger Cancer Institute in Lancaster. The campaign received national recognition for raising $25 million in a market of only 500,000 people.
Smith's volunteer work includes:

Board of Directors, Lancaster Chamber of Commerce and Industry (Past Chair)
Board of Directors, Lancaster County Community Foundation
Past Chair of the Board of Directors, Leadership Lancaster
Past President, Lancaster Bar Association; current Chair, Personnel Committee
Past President, Labor and Employment Relations Association, Central Pennsylvania Chapter
Trustee, Messiah College
About Hartman Underhill & Brubaker
Hartman Underhill & Brubaker LLC (HUB) is a full-service, Lancaster, Pa.-based law firm offering comprehensive services throughout Central Pennsylvania in the areas of business, land use, school and municipal, and litigation. Its practice groups include Business Services; Financial Services; Employment, Pension, and Tax; Estate Planning, Succession Planning, and Elder Law; Real Estate, Zoning and Land Use; School and Municipal Law; Litigation; and Family Law. Established in 1978, HUB has steadily expanded in size, expertise, and depth of experience while enhancing its position as one of the most well-respected and well-positioned law firms in Central Pennsylvania. The firm has offices in Downtown Lancaster and Ephrata, Pa.
HUB's team of 19 attorneys includes partners Michael W. Babic, Thomas W. Bergen, Joshua D. Cohen, Robert M. Frankhouser, Jr., Kevin M. French, Alexander Henderson, III, William C. McCarty, Jeffrey P. Ouellet, Kim R. Smith, Mark Stanley (past managing partner), and William J. Zee III; associates Joseph B. Allen, Brandon S. Harter, Kaitlin R. McGinnis, Glen Shikunov, and David M. Walker; and attorneys of counsel Marylou Barton, Mark L. James, and Christopher S. Underhill.
For more information, visit http://www.HUBlaw.com.