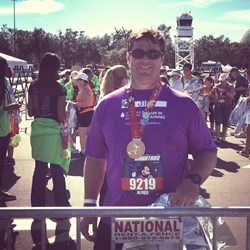 "Consider getting involved in a charitable organization, you won't regret it." - Alfred "Jib" Bell
West Palm Beach, Florida (PRWEB) January 16, 2014
Steinger, Iscoe & Greene attorney Alfred 'Jib' Bell said this of his completion of this year's LLS Disney Marathon in Orlando, Sunday January 12 2014 - "Around mile 23, my body hated me, which is a huge understatement, but then someone called me Lee (for those of you who don't know, he's battling blood cancer and I was running in his honor in addition to team heroes). It was the emotional boost that I needed; it set in that I could run where others could not, and that another would die of blood cancer before I completed another mile."
Attorney Bell was running for more than research, he was running in honor of his friend and fellow firm attorney, Lee Levenson, who is just coming off 3 months of chemotherapy treatment. Levenson, despite, or in the spirit of his being diagnosed with the disease, personally participated in the annual fundraising competition for the Leukemia & Lymphoma Society's Man & Woman of the Year in 2013. Despite Lee's not winning the competition in dollars, his spirit and resilience, and personalization of the disease for all his fellow contestants was immortalized and honored when the crowned "LLS Man of Year" named a research initiative in Lee's honor. To say that one life can make a difference is grossly understated in the life of Lee Levenson as he has faced his diagnosis last year – Lee is a dedicated husband and father of three young children, not to mention a phenomenal plaintiff attorney.
What Lee inspired in attorney Jib Bell far surpassed even Bell's expectation for himself – what he anticipated would be a 13.1 mile half marathon run in Lee's honor, carried him the complete marathon distance. The Friday before the event, a dinner was held for participants where families of those affected by various blood cancers spoke. Bell was especially touched by the story of a third grader, as told by her father. Her outlook went from 80-85% chance of survival, to 30% and then down to 1/1000 in a short time. She was the first to undergo a new injection therapy of modified and neutralized HIV – 1 cell can kill 1000 cancer cells. After the initial doses she seemed fine; by the final dose she was unable to breathe on her own. She was given steroids to kill off the treatment cells and, astonishingly, enough good cells survived that she was able to recover cancer-free within a few months. To date, 19 out of 22 people receiving the same treatment are cancer-free. Bell's exposure to this, and other survivors' stories both touched him and fueled him with motivation for the next morning's marathon.
Total funds for this year's race are still being counted; in 2013 Team in Training participants raised over $3.45 million for this event, according to the LLS Database (800-482-TEAM). Bell proudly completed the marathon despite fatigue near the end; he recounted the moment when someone called Lee's name being the emotional boost that kept him going and to see the race through.
When asked about what inspired him to participate, Bell commented, "If you ever decide to run a half or full marathon, I would encourage you to do it for a purpose – like Leukemia & Lymphoma research. What set out to be a reason to get off the couch and maybe make it 13.1 miles, was so much more fulfilling for me personally. Consider getting involved in a charitable organization, you won't regret it."
With regard to philanthropic involvement, Steinger, Iscoe & Greene believes in giving back to the community wherever possible, and is proud of the individual efforts of its firm family's advocacy throughout South Florida and beyond!