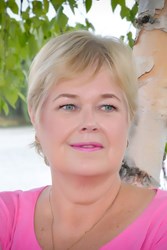 From Donna's perspective ... her beautiful 19-year old daughter went to sleep one July night and simply did not wake up. No warning. No apparent cause. As any parent can imagine, the bottom fell out of Donna's world.
Geneva, Illinois (PRWEB) January 16, 2014
Publisher Starshine Galaxy today posted the 'back story' to its acclaimed new novel, Tomorrow Comes: An Emma Story, and reports that first-time author Donna Mebane created the narrative to provide an afterlife for her daughter, Emma, who died mysteriously in her sleep in July 2011. See the newly posted story behind the story, as described in the author's own words.
Tracy Spevak, Starshine Galaxy publicist, explains, "While we launched Tomorrow Comes last October (see "'Brilliant' New Novel" released), we intentionally downplayed the inspirational origins of the book until it could gain traction in the market. Now that the book is off to a successful launch – garnering dozens of 5-star reviews on Amazon in the process – we are thrilled to spotlight that Donna Mebane is in fact the mother of 19-year old Emma – the book's heroine."
In Tomorrow Comes, the story goes: On the day that Emma's eyes did not open here on earth, "they popped open bright and shiny in a world called AFTER," according to Spevak. "Then a gripping, roller-coaster tale ensues, especially after Emma learns that she can communicate with loved ones back in BEFORE."
In a recent interview with Spevak, Ms. Mebane shared, "I guess Tomorrow Comes, and all that it represents, became my way of creating something that would enable Emma – and frankly me, too – to keep on living." (See the entire interview on the Starshine Galaxy website.)
Ms. Mebane explained that she was in Amsterdam when she got the call from her husband, with "words that will haunt me the rest of my life: 'The worst possible thing has happened ... Emma has died.'" But she found that, as time went on, "I could not accept that Emma – who was so vibrant, so alive, so central to so many other lives – simply didn't exist anymore." It was then Mebane realized that she could arrange to have 'tomorrow come' for Emma, her youngest child.
In Spevak's view, "The premise of the book is distinctive in and of itself. But the fact that the book was written by a grieving mother is really significant. For one thing, it gives the storyline a great deal of emotional integrity. For another, it provides inspiration to readers to know that the author was capable of writing such a powerful book while she herself was in the throes of grief."
"Look at it from Donna's perspective," Spevak invites. "Her beautiful 19-year old daughter went to sleep one July night and simply did not wake up. No warning. No apparent cause. As any parent can imagine, the bottom fell out of Donna's world. And yet, somehow, someway, she began to write, then wrote some more, and ended up creating an Emma story that is nothing short of phenomenal."
"The phenomenal thing to me," Mebane noted, "is that I thought I was writing Tomorrow Comes for myself, as a way to take two steps forward. But I am now finding that many people are struggling with the death of someone close ... and readers have told me that they can finally picture those they have lost in a way they can understand."
When asked for words of advice to other parents who have lost a child, Mebane offered, "Look for signs that your child is still with you. For us, it was stars. For others, it may be a bird or a balloon or a color or a song or all of these things. Whatever it may be, try to find it. It may or may not be your child speaking to you, but in good moments it will feel that way, and it can be a source of great comfort."
Mebane also suggested, "Find a way to share your child's story. I'm a writer, so it made sense to tell Emma's story in the way that I have. But your child's story may be best expressed in a poem or a painting or the planting of a tree or the awarding of a scholarship. The important thing is to create a living tribute to your lost loved one. And the sooner that you can focus on this, the sooner there will be a tiny, tiny beginning of something positive that comes from your unspeakable loss."
Spevak summarizes her take on what Ms. Mebane has accomplished:
"In Tomorrow Comes, there is Story One – the one about the character Emma who, on the morning after her death, wakes up in a place she calls AFTER, learns how to connect with loved ones back here in BEFORE, and begins to 'live' according to a whole new set of (unwritten) rules.
"In Tomorrow Comes, there is also Story Two – the one about the real-life mother Donna who found that the only way she could cope with the loss of her 'baby' was to ignite her imagination and, through her writing, breathe life back into her daughter and deliver her to a fictional world that could sustain her spirit as a living force.
"The combined result of the two stories is a compelling, richly layered human drama that underscores the significance of connectedness and the centrality of family. It also is grounded on an amazing characterization of the AFTER-life – the one that Ms. Mebane created to embrace her lost child, the one that all readers of Tomorrow Comes can use as a source of everlasting hope."
Mebane's entire interview with Spevak is available on the Starshine Galaxy website. Individuals and organizations interested in learning more should contact Spevak, who can answer questions and arrange for author interviews.