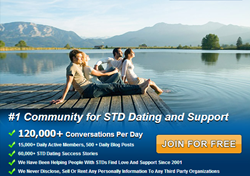 Los Angeles California (PRWEB) January 27, 2014
A recent survey of PositiveSingles.com on Jan.20: http://www.prweb.com/releases/2014/01/prweb11503070.htm, shows that most STD infected people would rather not date someone with a different STD, 27 percent of people think if both people in the relationship are educated, it does not matter to date someone with a different STD. This article is a tip sheet for the survey and will tell people what STD infected people should consider if they want to date someone with different STD status.
The dating world can be treacherous for any individual, but for those who have sexually transmitted diseases (STDs), finding the special someone can be even more difficult than normal. In the ideal world, having an STD means looking for a partner with the same infection, but with more than 19 million new STD cases reported annually to the Centers for Disease Control (CDC), individuals in the dating pool often have different or multiple infections.
So how selective should people be when looking for a potential partner on sites such as PostiveSingles.com, where thousands of STD-positive people are looking for love and companionship! Should STD dating be restricted to like-disease compatibility, or is it okay to branch out and be with other STD-positive people?
Dating someone with equal STD status
Not surprisingly, the most significant benefit to date someone who shares the STD status is peace of mind; both partners know they are dealing with similar diseases. Therefore, for two HIV-infected individuals to be intimate, there is no fear of passing on a life-threatening illness.
With peace of mind, people can relax and enjoy one another's company; there are no limitations physically, and when complications due to STDs occur, both partners are understanding and willing to work through the difficulty.
Dating someone with different STD status
Despite the fact that peace of mind can be found with a partner sharing STD status, love doesn't work that way, and few of people can pick and choose the qualities in someone they develop feelings for. If the ideal man or woman wanders into their life but has STDs they don't have, is that enough of a risk to make them look the other way?
Before answering that question, it is important to understand the risk of dating someone with sexually transmitted infections people don't have; there is no way to 100 percent ensure people do not contract their partner's illness. Knowing that, they have to make a personal decision about whether that matters to them or not; their opinion may vary depending on the STD as well. Someone with HIV, for example, may not mind dating someone with herpes, but someone with herpes may not be comfortable when dating someone with HIV.
Regardless, the choice is up to the individual. People with STDs must weigh their feelings and depth of relationship against the public health issue of potentially spreading disease. If they find themselves in a long-term, loving relationship, they may decide differing STDs are not an issue.
What people should consider when dating someone with different STD status
If people decide to enter into a relationship with someone who has different sexually transmitted infections, there is one very important relationship component that must be presented: communication. Knowing all the STDs present in a relationship is very important when it comes to practicing safe intimacy. Both partners must be forthcoming with all STD stats and, though it may seem impersonal, paperwork from a doctor should accompany this initial discussion.
A template for any healthy STD relationship from PositiveSingles.com should be that of the polygamous dating circle; these are individuals who have multiple partners with multiple partners, yet somehow they manage to remain more sexually healthy than many monogamous relationships. Much of this has to do with the stringent communication and safe-sex practices of these groups, such as monthly STD status meetings, frequent STD testing, and the use of all forms of STD protection including condoms and dental dams.
Because of these safe-sex practices and upfront communication methods, polygamous individuals tend to have fewer STDs compared to unfaithful people in monogamous relationships.
"Sexually unfaithful participants demonstrated significantly lower rates of protective sexual health behaviors both within their primary partnerships and during their extra dyadic sexual encounters. Sexually unfaithful participants were also less likely to engage in frequent STI testing, and less likely to discuss safer sex concerns with new partners," states research published in the Journal of Sexual Medicine.
The same principles of behavior should be applied to relationships forming where partners have different STD status; as long as communication is open and honest, both partners understand the risk and safe-sex methods are used should physical intimacy become an option, there is no reason such relationships should be avoided.