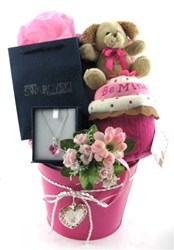 Only 4% of women want a bouquet of roses on February 14th! Opt for something original!
Montreal, Quebec (PRWEB) February 03, 2014
Glitter Gift Baskets, Canada's leading luxury gift basket retailer, has released the 2014 Valentine's Collection. Selections include gourmet chocolates, luxurious spa products and fine jewelry. The Spa Collection features products from Crabtree and Evelyn, Upper Canada Soap and the Sensual Kamasutra body line. The Valentine's Day baskets also feature a large selection of jewels by "Genuine Swarovski Components".
"Classic gifts like flowers are fantastic, but research shows that customers are looking to take it one step further with something unique and tangible, with staying power. That is precisely why we launched the 'Genuine Swarovski Component Line.' Within the second day of the launch, numerous pre-orders are indications of its success," says Tommy Gomatos, Glitter Gift Baskets.
According to a recent study, only four percent of women want a bouquet of roses on February 14th. Gentlemen who are hoping to win their girl's heart need to stay away from flowers. Select more customized gifts including fine jewellery, spa products/packages and gourmet foods.
Glitter Gift Baskets designer Voula Gomatos encourages men to think outside the traditional box and to surprise their loved ones when they least expect it. "Have the gift delivered to the workplace and make a real splash! Every girl wants to feel special in front of their friends and colleagues. Having the gift delivered a couple days earlier to catch her off guard is a great surprise," says Voula.
About Glitter Gift Baskets:
Canada's Leading Luxury Gift Basket Retailer
Glitter Gift Baskets features nationwide delivery of premium gift baskets with a 100% satisfaction guarantee.
Customer Service can be reached at 1-888-77-GIFTS (1-888-774-4387) or at http://www.glittergiftbaskets.ca.
Glitter Gifts was established in 1989. Over the last 25 years in operation, they have sold millions of gifts across Canada for people from around the world. As Canada's most established Gift Basket Company, they are dedicated to provide the highest quality products, superior customer service, and the most creative gift baskets designs.