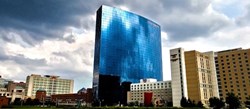 This year's goal for the dinner is $225,000.
Indianapolis, IN (PRWEB) February 12, 2014
The Indiana Region of the Franciscan Foundation for the Holy Land (FFHL) will hold its sixth Indiana Regional Benefit Dinner March 22 at the JW Marriott downtown Indianapolis, according to regional chairman Michael LeCuyer.
"This year's dinner is especially significant," LeCuyer said, "because it marks the 20th anniversary of the Foundation." The anniversary theme, "Preserving the Remnant of the Family of Christ" refers to the mission of the FFHL to safeguard the Christian presence in the Holy Land and stem their exodus from the area. Severe travel and work restrictions imposed by the Israeli government have made it increasingly difficult for Christians Arabs to survive in their homeland.
During its 20-year history, the Franciscan Foundation has developed 14 programs to help Christians in the Holy Land go to school, find good paying jobs and secure housing. Education programs include scholarships to elementary and high schools as well as for bachelor degrees from top universities. Funds generated by the Indiana Region support several programs including the Magnificat Institute School of Music, which offers a variety of music courses and varying levels, LeCuyer said.
The previous five Indianapolis FFHL dinners, according to LeCuyer, have generated a total of $748,000. Total fundraising in the region has raised $1.4 million during the period. This year's goal for the dinner is $225,000.
The downtown JW Marriott was chosen for the dinner because it offers more room for the special anniversary event, LeCuyer said. The evening will include an expanded silent auction, which is expected to surpass the previous event's earnings of $31,000. Thirty tables will be available for this year's dinner, and attendance is expected to exceed 300.
Keynote speaker at the dinner will be Rev. Marwan Di'Des, OFM, a Franciscan priest who was born in Jerusalem. He served as pastor of the parish in Bethlehem for three years and is currently Director of the Terra Santa Schools throughout the Holy Land and of the Franciscan Boys Home in Bethlehem.
Also attending the event will be the Archbishop of Indianapolis, Joseph W. Tobin and his Auxiliary, Bishop Christopher J. Coyne. Emcee for the evening will be Monsignor Joseph A. Schaedel, Pastor of St. Luke Parish in Indianapolis, and Rev. Peter Vasko, OFM, FFHL President.
The Franciscan Foundation is an extension of the Franciscan Custody of the Holy Land, which is responsible to the Vatican for all Christian peoples, shrines and holy sites in the region.
To make reservations for the dinner or to sponsor a table, e-mail the FFHL at info(at)ffhl(dot)org, call toll-free at (866) 905-3787, or visit the foundation website, http://www.ffhl.org.