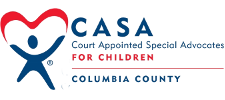 CASA for Kids helps provide the best solutions for children in times of trouble.
St. Helens, OR (PRWEB) February 05, 2014
Money donated to CASA goes specifically to fund training of new CASA's. CASA stands for Court Appointed Special Advocate. Court appointed special advocates (CASA's) are assigned to specific foster children, who need extra attention with their cases. CASA's follow cases from the child's initial placement, until they are reunited with their parents. The typical cases CASA's are assigned to last 18 months.
CASA's make sure each child appointed to them is getting the medical attention, the counseling, and all other relevant services that may be available to them. CASA's represent the children they are appointed to by acting as a liaison between the court and all other parties involved in the child's case, including foster parents, parents, relatives, doctors, therapists, and teachers.
CASA for Kids encourages donors to sign up for recurring monthly donations of as little as $10 per month, or gladly accepts one time tax deductable donations of any amount. All donations are promptly acknowledged and gratefully accepted. Donors may also contribute gift donations in somebody else's name and CASA will send a card or letter to notify the honoree of your gift on their behalf.
CASA also needs volunteers to become Court Appointed Special Advocates. CASA volunteer advocates are asked to commit to at least 18 months of service, which is the term of a typical case. In addition, 30 hours of training is required, which includes 15 hours of online training, and 15 hours in a classroom. Additional hours of ongoing training are also required each year. CASA volunteers must be over 21 years old and pass a criminal background check. CASA also need volunteers to help with fundraising, office work, and outreach events.
CASA for Kids helps provide the best solutions for children in times of trouble, and lessons the burden of the court system and social services. CASA volunteers find the work that they do rewarding in immeasurable ways, and often recommit to service again and again. CASA for Kids realizes that not everybody can donate their time, which is why they have made it easier than ever for donors to contribute.
Related News:
CASA for Kids of Columbia County: Currently Seeking New Volunteers