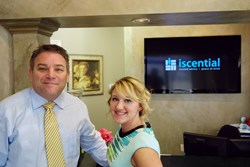 Houston, TX (PRWEB) February 18, 2014
On February 10, 2014, Wonderlic, the nation's leading publisher of employment assessments and student admissions tests, announced the "Most Engaging" Leaders and Employers in the Wonderlic Leadership Invitational.
Iscential is honored to have been named in the Top Ten Organizations list, and we are especially honored to have our Account Support Manager, Stephanie Kleinhenz, and our CEO, Warren Barhorst, named in the Top Ten Leaders list.
Please see the Wonderlic press release here.